Check out Bill's success story: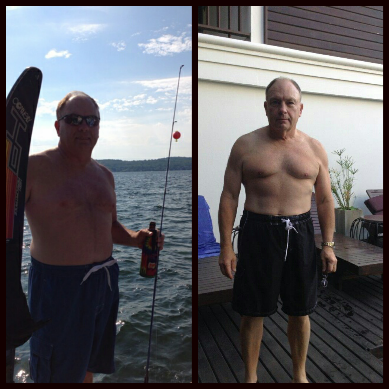 Bill came to my program in November and decided to take on our 5 week challenge. He absolutely killed it as you can see visually from the photo.
How much weight do you think he lost?
Interestingly enough…only 10 pounds, but more importantly he lost a significant amount of body fat and inches.
In fact, Bill lost three belt notches and had to go buy some new pants (down to a size 35 from a tight 38) for his recent trip.
But even more important, Bill's blood pressure was averaging 135-140 over 85-90 +/-, and after 5 weeks it is now averaging 117/70.
Take home message:
Don't focus on weight loss (a big problem).
Use your clothes and photos to assess the effectiveness of your program. If there are no changes, you need to change something.
Ideally measure your body fat weekly.
You can achieve significant results in a very short time when you are on the right program for you.
Blood pressure can normalize when you change your lifestyle (and quick).
Bill committed to our boot camp program and the intermittent fasting, low carb, high veggie, moderate protein and high fat diet I shared with him.
Yes… high fat. Generally, when you eat the good fats in abundance, you will have lower sugar and carb cravings, digestion improves and hormones balance, resulting in lower body fat and improved health.
More success stories coming each week so stay tuned.
If you want some help I am here for you. Just email me back or call me at 650-654-4604.
Don't forget, tonight at midnight is the last chance to take advantage of the 14 Day Detox promotion and to be a beta tester for this new program, check it out and purchase here: 14 Day Detox. Coupon code is CLEANSE15
Let's have a great week!
Your friend & coach,
Brien
About Brien
Join Brien on Facebook
Write a Google+ Review
Write a Yelp Review: Belmont Boot Camp, Burlingame Boot Camp, San Carlos Boot Camp, Shamp's Studio Boot Camp
Disclaimer