Credit for this delicious salad recipe goes to www.paleoista.com
Servings: 2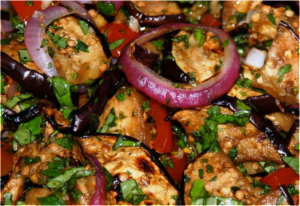 INGREDIENTS:
1 large eggplant, sliced into 1″ thick pieces
4 ounces sun dried tomatoes in olive oil
¼ cup fresh basil leaves, chopped
2 tablespoons extra virgin olive oil
4 cups wild arugula, washed and spun dry
¼ red onion, sliced thinly
DIRECTIONS:
Preheat oven to broil.
Place eggplant on wire rack and cook 10-15 minutes flipping every few minutes and keeping a close eye to prevent charring (will be on the crisp side).
Remove from oven and let sit until cool enough to handle.
Place tomato (if using sun-dried; if using fresh, wait until right before serving to add), basil and oil in food processor.
Whiz in the food processor until coarsely chopped.
Place in glass or ceramic bowl and stir eggplant in and cover tightly.
Chill overnight; remove from refrigerator 10 – 15 minutes before serving on top of arugula, with onion on top of that as a starter or add your favorite protein to create a full meal.
Your friend & coach,
Brien
About Brien
Join Brien on Facebook
Write a Google+ Review
Write a Yelp Review: Belmont Boot Camp, Burlingame Boot Camp, San Carlos Boot Camp, Shamp's Studio Boot Camp
Disclaimer