Check out this delicious recipe for Peanut Butter Frozen Yogurt (MMMMM!!!) by Diana Keuilian: http://realhealthyrecipes.com
Servings: 8
INGREDIENTS: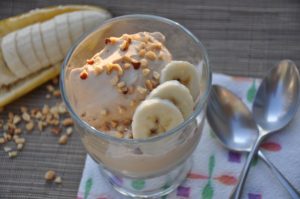 ¾ cup creamy, natural peanut butter (only use peanut butter that doesn't contain corn syrup or sugar)
¾ cup coconut palm sugar
½ tsp vanilla extract
⅓ cup filtered water
16 oz fat free plain Greek yogurt
16 oz fat free vanilla Greek yogurt
Banana for topping
Peanuts for topping
DIRECTIONS:
Combine the peanut butter, coconut palm sugar and water in a small sauce pan.
Heat over very low heat, mixing constantly, until it is all melted together. If the mixture is extremely thick, then add some more water. It should be thin enough to pour.
Separate ½ a cup of the sauce if you'd like to use it as a topping. Set aside and allow to cool.
In a medium bowl combine both types of yogurt. Add the peanut butter sauce and mix well.
Put in your ice cream maker and allow to run until it reaches ice cream consistency.
Top with the reserved peanut butter sauce, banana slices and chopped peanuts.
Nutrition Information: Each serving contains approximately Calories: 249 Fat: 8 g Carbohydrates: 19 g Sodium: 163 mg Fiber: 3 g Protein: 19 g
Check out more fabulous recipes on https://brienshamp.com/recipes
Your friend & coach,
Brien
Try out our Fit Body Boot Camp Afterburn Workout totally FREE with unlimited sessions for 7 days: 1 Week Boot Camp Trial Info
Fit Body Boot Camp is the only 30 minute group personal training program that's fun, affordable, gives you fat loss results and challenges your body every time. Best of all, we guarantee you'll be happy with the results or you get your money back.
The boot camp sessions are approximately 45-50 minutes long. Each session includes a 10-15 minute warm up phase with mobility and core movements to prepare you for the 30 minute metabolic workout, and then it ends with a 5 minute cool down phase.
Telephone: 650-654-4604
About Brien
Join Brien on Facebook
Write a Google+ Review
Write a Yelp Review: Belmont Boot Camp, Burlingame Boot Camp, San Carlos Boot Camp, Shamp's Studio Boot Camp
Disclaimer