Here is another fantastic Diana Keuilian recipe: http://realhealthyrecipes.com/2016/09/07/stuffed-summer-squash/. She posted this for a "Meatless Monday" recipe saying "This Stuffed Summer Squash is hearty, flavorful and satisfying…even without the meat!" Let me know what you think of it.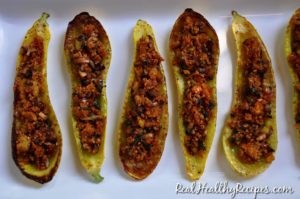 Servings: 3
INGREDIENTS:
3 yellow summer squash
sea salt
black pepper
1 Tablespoons olive oil
1 leek, diced
1 cup mushrooms, diced
1 teaspoon fresh thyme
1 Tablespoon tomato paste
¼ cup dry white wine
½ cup quinoa, cooked
¼ cup fresh basil, minced
DIRECTIONS:
Preheat the oven to 400 degrees F.
Halve the squash lengthwise and scrape out the seeds.
Lightly rub both sides of each squash half with olive oil and sprinkle with sea salt and black pepper.
Place, cut side down, on a baking sheet.
Roast for 10-15 minutes, until tender.
Gently remove the tender center of each squash, leaving the skins intact.
Chop the removed squash flesh and set aside.
Line the squash halves, hollow side up, back onto the baking sheet.
Place a skillet over medium heat. Add the olive oil and diced leek.
Cook, stirring often, for 4 minutes.
Add the diced mushroom, fresh thyme and tomato paste. Cook for another 4 minutes.
Deglaze the skillet with the wine, cooking for an additional 3 minutes.
Remove the skillet from the heat.
Stir in the cooked quinoa, fresh basil and reserved, chopped squash flesh.
Fill the squash skins with the quinoa mixture.
Place back in the preheated oven for 15 minutes. Enjoy!
Nutritional Analysis: Each serving contains approximately Calories: 163 Fat: 3g Carbohydrates: 25g Sugar: 2g Sodium: 15mg Fiber: 3g Protein: 6g
Check out more fabulous recipes on https://brienshamp.com/recipes
Your friend & coach,
Brien
Try out our Fit Body Boot Camp Afterburn Workout totally FREE with unlimited sessions for 7 days: 1 Week Boot Camp Trial Info
Fit Body Boot Camp is the only 30 minute group personal training program that's fun, affordable, gives you fat loss results and challenges your body every time. Best of all, we guarantee you'll be happy with the results or you get your money back.
The boot camp sessions are approximately 45-50 minutes long. Each session includes a 10-15 minute warm up phase with mobility and core movements to prepare you for the 30 minute metabolic workout, and then it ends with a 5 minute cool down phase.
Telephone: 650-654-4604
About Brien
Join Brien on Facebook
Write a Google+ Review
Write a Yelp Review: Belmont Boot Camp, Burlingame Boot Camp, San Carlos Boot Camp, Shamp's Studio Boot Camp
Disclaimer