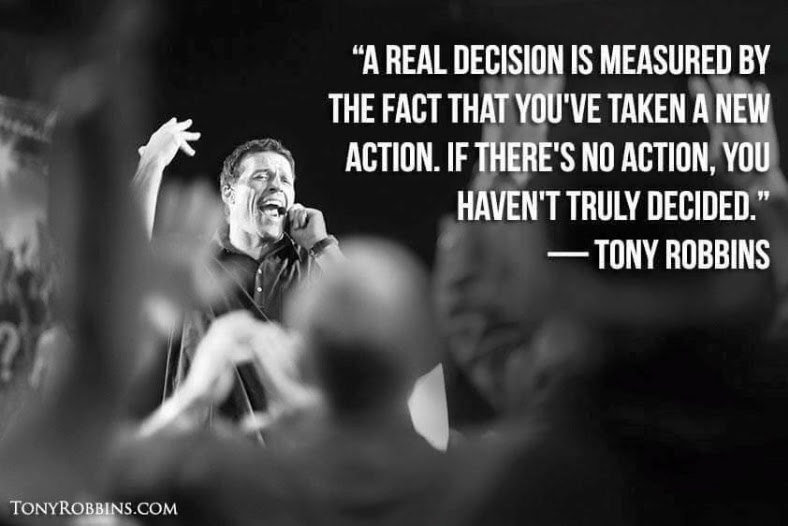 I hope you had a chance to read the article I wrote on Monday where I shared one of my key takeaways from my weekend with Tony Robbins – How To Change Your Emotional State in Seconds. If you missed it you can see it again here: How To Change Your Emotional State in Seconds I know it's long but if you find yourself struggling with stress, anger, fear, depression and anxiety, etc. I guarantee it will be worth your time. On Monday I intended to write about Tony's Ultimate Success Formula for any goal, which I am doing here, but I felt a pull to write about how to change your emotional state first.
When you are suffering from (anxious, fearful, stressed, angry, overwhelmed, frustrated, depressed) emotions your energy and focus is on suffering, so you will not be in the right emotional state to achieve your goals. I spent many years suffering and made my goal achievement much harder than it needed to be. Now that you know your emotional state can be changed quickly, use the skills I mentioned in the article to get into a grateful, loving state and let's go to the next step (coaching is very helpful for this transformation).
Tony Robbins says regardless of the goal it's 80% psychology and 20% mechanics.
I have spent 26 years coaching my clients on the mechanics of healthy living: meditation, hydration, sleep habits, exercise and nutrition. I didn't get into the mindset work until 2014 because I figured I was doing enough and I could outsource the rest as needed. Unfortunately, what I didn't teach was really the missing variable for goal achievement.
Sure there is a major lack of education and awareness regarding how to look and feel better in this world, BUT…WITH THE RIGHT MINDSET YOU WILL FIND A WAY! If you are HUNGRY with a strong WHY and KNOW WHAT YOU WANT you will continue to search for the answers until your goal is reached.
Being hungry is based upon your psychology and this is the most important variable for success!
I had a coaching call for my new clients who started my 5 week Holiday Belly Burn a few weeks ago and I mentioned that the hardest part of goal achievement is the psychology.
I take that back!! It shouldn't be hard at all if that is your focus.
Success or Life is hard when you don't focus on your psychology or mindset.
We covered the 5 Step-Ultimate Success Formula in the call and went over it in great detail, which you can listen to here>>> Ultimate Success Formula and see below:
Know Your Outcome. Be specific on WHAT you want!
Know Your WHY. When you know your why, the how's will work itself out.
Take Massive Action.
Know What Your Getting. You need to assess your progress. If you want to lose weight and body fat, you need to measure before you start, each Monday and at the end.
Change Your Approach. Based upon your assessment of your progress, you may need to work on some new strategies or beliefs. If you have hit a plateau or find yourself spiraling downhill, this is the time to ask for help. Spiraling often happen because we missed our opportunity to assess and missed the plateau that happened before the spiral.
Complete my FREE Goal Success System by registering in my client portal website:
Once you are logged into the client portal, find the Online Client Forms link in the main dashboard under "Account Tools" and complete the Goal Success Form. This will help you a lot with the 5-step process outlined above.
I hope you enjoyed this article and I would love your feedback. If you found it to be of value, please share it with others.
If you are not yet one of my subscribers please register here for my free educational content >> Subscribe
Your friend & coach,
Brien
Try out the Fit Body Boot Camp Afterburn Workout for 21 days. You'll see why we're rated the best in the Bay Area! 21 Day Rapid Fat Loss Program Boot Camp Trial
Fit Body Boot Camp is the only 30 minute group personal training program that's fun, affordable, gives you fat loss results and challenges your body every time. Best of all, we guarantee you'll be happy with the results or you get your money back.
The boot camp sessions are approximately 45-50 minutes long. Each session includes a 10-15 minute warm up phase with mobility and core movements to prepare you for the 30 minute metabolic workout, and then it ends with a 5 minute cool down phase.
Telephone: 650-654-4604
About Brien
Join Brien on Facebook
Write a Google+ Review
Write a Yelp Review: Belmont Boot Camp, Burlingame Boot Camp, San Carlos Boot Camp, Shamp's Studio Boot Camp
Disclaimer