Hey everyone!
It has been quite a week getting our NEW Burlingame Fit Body Boot Camp up and going for our Open House, Saturday, February 4th from 11:00 am – 2:00 pm. I am super excited to see how it all turns out in only 9 more days!
We will have healthy snacks & refreshments, fitness demos, short injury prevention and rehab clinics on injuries common in fitness & sports, great prizes and many free giveaways including our special 6-Week Boot Camp Transformation Program.
Starting February 6th we will offer early morning sessions at 5:30 am, 6:15 am, 7:00 am, 8:30 am, 9:30 am (based upon demand) and evening sessions starting at 4:30 pm.
On February 13th we will be starting a NEW 6 Week Transformation Challenge to help all of our new clients in Burlingame (and other locations) get in the best shape of their lives.
You will not find a program that will help you melt inches off your body faster and has helped more people just like you.
Just like Judi who lost 17. 7 pounds, 26.5 inches and a whopping 6.3% body fat in only 5 weeks!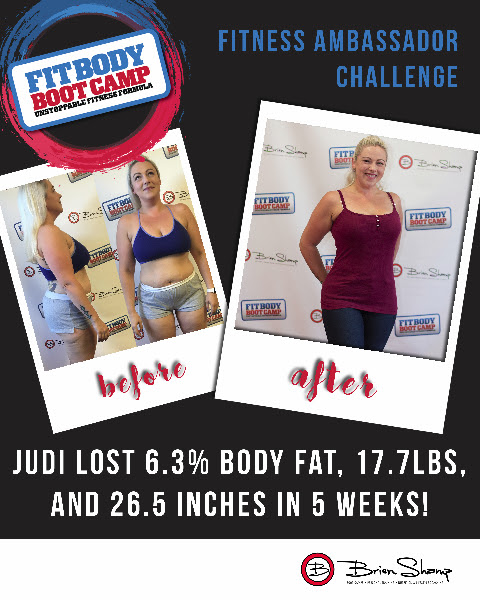 and Joe who lost over 83 pounds with our challenges.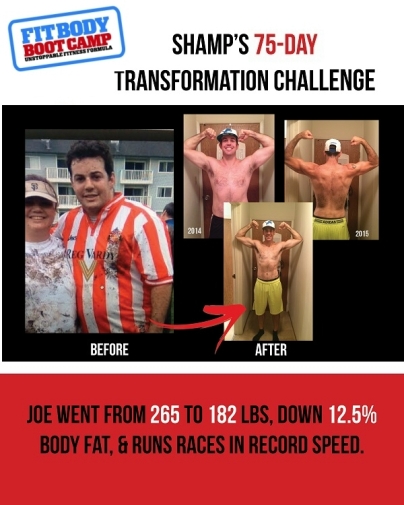 One of the hottest couples on the peninsula and two of our leaders at the Burlingame Fit Body Boot Camp. Shevonne and her husband Kevin started their Transformation Journey's with a challenge and now look at them below.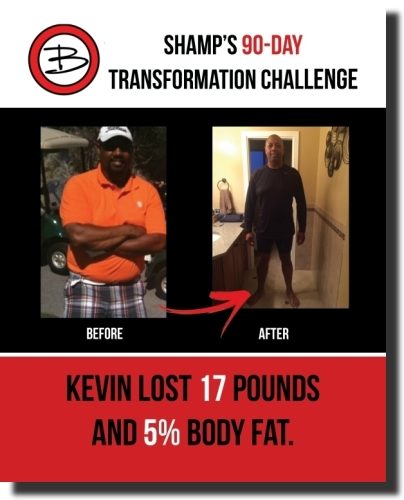 It doesn't matter how many programs you have tried and failed in the past, our program is proven over and over again and we are even willing to put our money where our mouth is!
If you try our program and in 6 weeks you are unsatisfied with the results we will give you your money back!
We will be having a pre-sale for the next 6 week challenge soon. In the meantime, we are going to pick a few winners to start on the 13th.
Challenge Giveaway Winner #1
The first winner of our challenge giveaway goes to:
Drum roll please…….
Joanie Brooks!!
Joanie Brooks please email info@brienshamp-com.wp3.staging-site.io and Tonya will get you all set up.
Congrats and welcome to the challenge and our health & fitness family. We look forward to helping you get awesome results in 2017!
Join Joanie Brooks and others on their journey!
Next Monday, January 30th I am going to hold the second drawing for you to win a 6-Week Boot Camp Transformation Challenge Program! Make sure you enter the drawings for your chance to win! Click here to enter
By entering our drawing to win a free 6-Week Boot Camp Transformation Program you'll automatically be added to our VIP OPEN HOUSE pre-sale list to be eligible to sign up for one of our "Charter Memberships" at our new boot camp location. We'll also keep you posted with updates on the progress with our new location.
Please help me share the giveaway and our new Burlingame Fit Body Boot Camp at 866 N. Delaware Street, San Mateo.
I hope to see you, your family and friends at our VIP Open House Celebration <<< Please RSVP so I plan accordingly.
Your friend & coach,
Brien
Try out the Fit Body Boot Camp Afterburn Workout for 21 days. You'll see why we're rated the best in the Bay Area! 21 Day Rapid Fat Loss Program Boot Camp Trial
Fit Body Boot Camp is the only 30 minute group personal training program that's fun, affordable, gives you fat loss results and challenges your body every time. Best of all, we guarantee you'll be happy with the results or you get your money back.
The boot camp sessions are approximately 45-50 minutes long. Each session includes a 10-15 minute warm up phase with mobility and core movements to prepare you for the 30 minute metabolic workout, and then it ends with a 5 minute cool down phase.
Telephone: 650-654-4604
About Brien
Join Brien on Facebook
Write a Google+ Review
Write a Yelp Review: Belmont Boot Camp, Burlingame Boot Camp, San Carlos Boot Camp, Shamp's Studio Boot Camp
Disclaimer