Today is Transformation Tuesday!
Check out Echo below!!!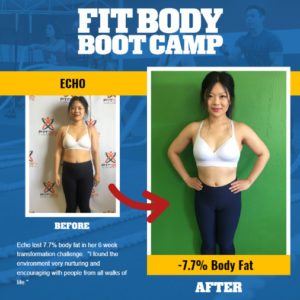 Today is Transformation Tuesday!
Check out Echo below!!!
​Here is what Echo had to say about her 6 week summer transformation :
"After suffering an injury and recovering, I stumbled upon the 6 week challenge and Fit Body Bootcamp and thought it as the perfect way to reboot my workout regime.
I needed that kick in the butt and someone to keep me accountable and that is exactly what I got. Even though I have loss weight in the past by myself, I always wanted to try out a bootcamp and having access to personal trainers, and I was not disappointed with my experience.
Their approach is holistic, encompassing not only exercise but also other important aspects such as diet, sleep, and stress management. This was a major draw for me as I thought I could acquire some better habits in areas I was neglecting like sleep and stress, in addition to whipping my body back into shape.
But the best part I can honestly say was the community. Everyone was very supportive, sharing tips they picked up along the way and challenging each other in class. Even when sessions were tough, having everyone around made it easier to push yourself. Overall, I found the environment very nurturing and encouraging with people from all walks of life.
As for the diet and exercise portion, I will say that I am no rookie. I've been a cardio queen, run long distance, play tennis, done HIIT, dance cardio-ed, did weight training, eaten low carb / keto etc. So looking at the setup of the program, I already saw elements that I knew would work.
Workouts are quick 35 min interval styled sessions with warm up and cool down included. Great in and out if you don't have much time but you can always double or triple up on classes if you have the time and energy, making it very customizable.
Classes are held through the morning and late afternoon/early evenings, available 7 days a week in various mid-peninsula locations.
Diet was more strict than some I have done in the past but made sense as you are trying to hit your goal in a short amount of time. In short, I enjoyed the challenge and hope to keep the healthy habits I learned along the way."
Yesterday, we started a new group on the challenge. We still have 3 spots left if you want in and can get on a quick call or meet with us for an interview today.
Sign up here >>>  6 week summer transformation challenge
*Current Members- reply back to this email
After today, our next group start will be August 6th. We will start interviews tomorrow for that group.
Schedule your interview here >>>  6 week summer transformation challenge ​
You can read more about the 6 week challenge here: 6 week summer transformation challenge , but in short, you will get:
Customized Nutrition Meal Plan
At least 3 workout sessions weekly with a COACH
Unlimited Accountability and Support
There is never a perfect time to make yourself a priority.
Let me know if today is your day to make a change in your habits so you can get some kiss-ass results like Echo!
I look forward to coaching you!
Please share my educational content with your friends and family and help us influence even more Silicon Valley Residents to reach their full potential >> Subscribe
​Your friend & coach,
Brien
Telephone: 650-654-4604
About Brien