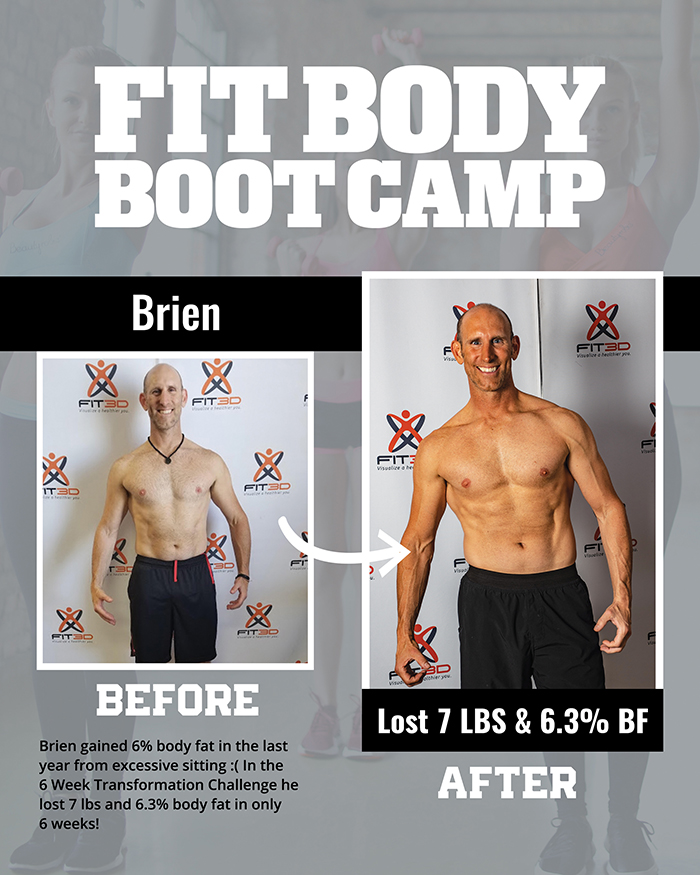 If you're looking to make a change in your body, mind and spirit, join me on a life-changing journey to find your happiest, healthiest YOU with our NEW – 6 Week MOVE & Transform Challenge.

If you have been putting your needs on the back burner I was just like you only 6 weeks ago…
It has been a great year. My family and I are healthy. Business is outstanding. Stress is manageable.

We started the 6 Week Challenge model in November 2017 and we have had 1200+ people participate. We helped more coaching clients lose weight and fat in the last 11 months than in my previous 27 years! Success!

Unfortunately I didn't follow my own coaching advice and often failed to get at least 30 minutes of movement per day. I sat more than ever before and my nutrition deviated more than usual also 🙁
I did two different body fat measurements and found that I gained 6% body fat in the last year. Yikes!!!

My focus had been the 6 week challenge and writing my new book that will be complete by the end of 2018.

I asked myself, how could I write a weight loss & vitality book and not be the best I can be? I kept hearing the quote by T. Harv Eker "How you do anything is how you do everything!"

I decided to take action on my own challenge with the goal of losing the 6% I gained in the last year, but in only 6 Weeks.

Well, I finished Monday and won my own challenge with a 6% fat loss victory!

I followed the 6 Week MOVE & Transform Nutrition Program and Lifestyle Strategies. Most important strategies were the following:

·        BREATHE: Slow, deep, rhythmic breathing with grounding to start the day and when stressed.

·        Journaled my daily victories before leaving the house. At times I needed to pause and remember "what's wrong is always available BUT so is,,, what's right."
·        HYDRATE: Drinking at least ½ my body weight in oz. of water and adding minerals and electrolytes as needed to be well hydrated.

·        SLEEP: Winding down in the evening earlier by shutting down technology or wearing blue light blocking glasses when I really needed to get work done later.

·        On days where I had to teach early and wake up at 4 or 4:30 am I made time to take a 20 minute nap (rather than working). Wow, that made a difference!

·        EAT: For the food part of the equation I focused on Digestive Resting (aka Intermittent Fasting) for 14 hours on average. I tried to do 16 hours a few days per week. I did my best to consume at least 50% of my total calories from healthy fat sources, lots of low starch veggies, removed gluten and pasteurized dairy completely. I consumed raw, organic cheese most days of the week and lot's of dark chocolate 🙂
·        LOVE, CONNECT & CONTRIBUTE:  I did my best to come home earlier and spend some quality time with the family.

·        GROW: I got back into martial arts, dove deeper into the writing my book and focused on changing my negative emotional states faster with my Tony Robbins strategies and coaching from my Coach.

·        MOVE: I worked out at least 30 minutes, 5 days of the week with boot camp sessions, martial arts, some hiking and got a stand up desk. If you sit more than stand, getting a stand up desk is a great first step to transformation. Sitting is a very dangerous thing!

I lost 7 pounds and 6.3% body fat, my body is less painful and I was even more productive, working less!

I also have a good story and photos for my new book 🙂 
Now onto the next challenge. I want to get even better results in the next 6 weeks!

If you are ready to make yourself a priority and lose your unwanted body fat, our next 6 Week MOVE & Transform Challenge will start on October 22nd.

We started interviews today for this group.

Transform Your Body & Life in Only 6 Weeks by Scheduling Your Interview Here: October 22nd- 6 Week MOVE & Transform Challenge

I hope my story can help even more people in need realize what is possible in only short 6 weeks!

I am not special by any means.

We have coaching clients achieving even better results than I accomplished quite often.

You can do it and you deserve it!

Let me know if I can help you!
Your friend & coach,
Brien
Telephone: 650-654-4604
About Brien
P.S. Remember that I'm only a call or email away to assist you in all things health & fitness. If you are not yet one of my prized clients apply as soon as you can to schedule an interview for our new 6 week challenge starting soon!
APPLY HERE>>> NEW 6-Week Transformation​​​​​​​