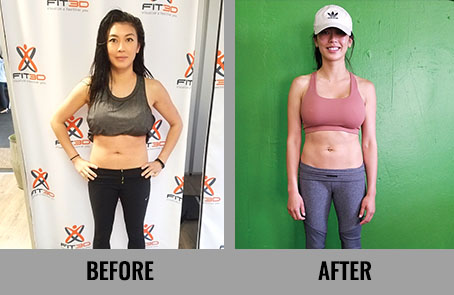 Excellent before & after photos DO make a world of difference in showing your progress!
Below are the guidelines for photo submissions on all Shamp's Transformation Challenges. If you have any questions please email us at admin@brienshamp-com.wp3.staging-site.io.
If you want to change the way your body looks, please take your before photos and enter them into the App in the Progress Photo section on Day 1. Do this again at minimum every week to view your progress.
Don't worry…we will not share your photos without your permission.
Simply use your cell phone for the photo.

Ideally, have someone else take the photo for you with a plain wall or plain white background. This will make your photos pop and show the greatest amount of detail in your transformation.

Wear swimwear or moderately tight fitting workout wear in the photos for both the before and after. Be sure to wear very similar outfits for both the before and after photos for easiest comparison.

Both the before and after photos should be taken at the same distance away from the camera. In other words, don't have one photo with you far away in the image and another with you closer.

Take one photo of your front view, side view and back view for each before and after photo set.

Photos should all be full length (head to toes) or 3/4 view (head to calves).

Ensure the lighting is good for the photo shoot (ie, daytime, full lighting in room if taken indoors) and take both the before & after photos with the lighting as close to the same as possible.

Below are a few examples of some good before/after front view photos. Ideal is a plain background and at least 3/4 body view (best is full from head to toe).