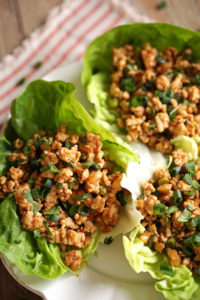 Prep: 10 min Cook: 15 min Total: 25 min
Serving: 4
Ingredients
2 tbsp extra-virgin olive oil
1 lbs organic ground turkey
1 tsp garlic clove (minced)
1⁄2 cup onions (diced)
1⁄2 cup yellow pepper (diced)
1 1⁄2 cup sweet potato (diced)
Salt and freshly ground black pepper
8 large inner leaves romaine lettuce (from a romaine heart)
1⁄4 cup avocado oil or olive oil mayo
2 tbsp Sriracha
Directions
1.In an iron cast skillet, heat olive oil over medium high heat.
2.Add ground turkey, garlic and using a wood spoon breaking up the turkey. Cook for about 7 minutes and don't forget to stir occasionally.
3.Add onions and yellow peppers. Cook until onions are until translucent.
4.Add the sweet potato, salt and pepper.
5.Cover the skillet and cook until they are tender. Don't forget to stir occasionally. If necessary, add more olive oil or a little bit of water to help to cook the sweet potato. When it is tender, remove from the heat and set aside.
6.While the sweet potato is cooking, start to prepare the Sriracha Mayo sauce. In a small bowl add all ingredients (Sriracha, mayo, lemon juice and salt) and stir well to combine. Set aside.
7.Spoon the ground turkey mixture into individual lettuce leaves. Top with green onions, avocado, and Sriracha. Enjoy immediately.
Motivate your friends, family and co-workers! Use the "refer a friend" link below to forward this newsletter to your friends, family, and coworkers.
Please let me know if you have any questions!
Your friend and coach,
Brien Shamp
650-654-4604
​admin@brienshamp.com​​​
Share this #WorkoutWednesday by forwarding it to your friends and family!