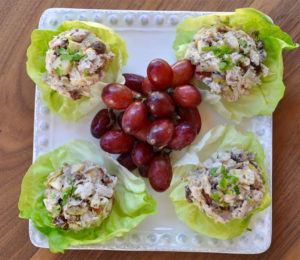 I love recipes like this, where the flavor and enjoyment outshine the health benefit. One bite of these Chicken Lettuce Boats and you'll see what I mean – the crunch, the collision of flavors and the creamy enjoyment will push all thoughts of calories and fat grams out of your mind…but rest assure that this recipe is highly healthy and will keep you on track towards your fat loss goal. Enjoy!
What you need
Serves 6
2 small apples, cored and chopped
1 Tablespoon orange juice
3 cups roasted chicken, chopped
¼ cup toasted walnuts, chopped
¼ cup black raisins
1 (4 oz) can mild diced green chiles
½ cup non-fat plain Greek yogurt or Coconut yogurt.
¼ cup light, balsamic dressing
sea salt and black pepper to taste
1 head butter lettuce
red grapes – optional for serving
Instructions
In a large bowl combine the chopped apples and orange juice. Mix to combine.
Add the remaining ingredients (save for the lettuce and grapes) and mix well. Chill, covered, for 15 minutes or until ready to serve. Use an ice cream scoop to place the chicken salad on each lettuce leaf. Garnish the plate with red grapes and Enjoy!
Nutrition
224 calories, 8 g fat, 140 mg sodium, 15 g carbohydrate, 2 g fiber, and 23 g protein
Motivate your friends, family and co-workers! Use the "refer a friend" link below to forward this newsletter to your friends, family, and coworkers.
Please let me know if you have any questions!
Your friend and coach,
Brien Shamp
650-654-4604
​admin@brienshamp-com.wp3.staging-site.io​​​
Share this #WorkoutWednesday by forwarding it to your friends and family!