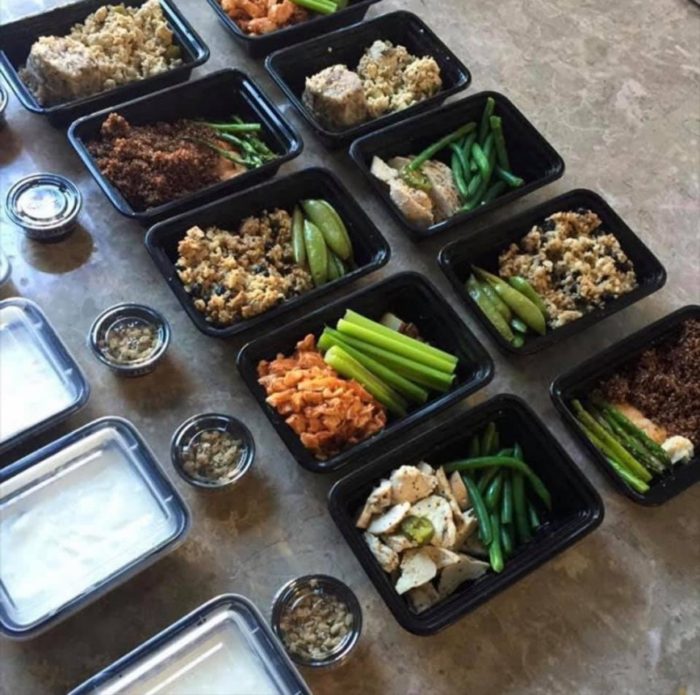 ​​

Happy Sunday!

​Are your meals prepped for tomorrow and the rest of the week?

A great week starts with planning and prep over the weekend!

Are you done with summer and ready to get back to making you a priority?

There is a new personalized coaching program I have been working on and it doesn't get much better than this.

There is no comparison because it is uniquely based on your needs!

I am currently working with 37 coaching clients and I can take on 13 more if you are ready to start no later than Wednesday (ideally tomorrow).

If you are tired of being tired, confused about what to eat and when to eat and overwhelmed with what you truly need to get healthy and fit once and for all, schedule a phone interview tomorrow or Tuesday to get one of the 10 coaching spots.

For more information and to schedule go here: NEW 42-DAY ULTIMATE MIND & BODY MAKEOVER
​ ​​*Only serious inquiries

Check Out How We Have Systematized The Transformation Process For This NEW Coaching Program:


Accountability Coaching​
This is the most important layer of our program! To keep you fully committed to your goals, you'll be assigned your own personal Accountability Coach. You will be able to contact your coach whenever you need help, tips, advice, or just someone to give you some extra encouragement. How many times have you lost focus on a nutrition plan, exercise routine or goal and ended up not following through and quitting?  We all need coaches so we continue to stay focused on what we really want and to avoid the many distractions. We are here to help you every step of the way!


Customized Nutrition 
The foundation of our program is our individualized nutrition programming.
Are you overwhelmed & frustrated by the various diets that are supposed to be good for you?
Just like our cars, we all have a specific fuel source we run best on.
Why do we continue to follow diets that don't take our unique metabolic needs in mind?
Keto, Paleo, Whole 30, Zone Diet, Weight Watchers, etc. are generally all good short term strategies, but we need more than a quick fix, right?
We will work with you as long as it takes and makes you your own custom meal plan.
Exactly what you need, given your body, schedule, and food preferences, so it is not only doable but enjoyable.
We adjust every week as needed to make sure you see results week-in, week-out.
The plans are easy to follow, specific to your needs, and adapt as you progress through the program.



Guided Exercise
Being regularly active for at least 30 minutes per day will ensure a greater experience physically and mentally. Most important…STAND more than you SIT and MOVE more than you STAND!
You don't need to join a gym or do high-intensity workouts.
We will provide exercise programming and structure for your needs to do anywhere in the world!
For many that want to lose weight and body fat, walking and doing a handful of basic bodyweight, functional movements will do the trick.
All workouts can be completed at any level and at your pace.


Supplementation
Many are consuming supplements that are not helping to solve anything. They may also be causing you harm.
We'll show you how to 10X your results by incorporating a supplement strategy to maximize your recovery and ignite your body's ability to burn fat.
As needed, we can also do functional lab testing to get even more specific for your supplement and dietary needs.


Community
Belonging to a community that shares in your journey will ensure your ability to look beyond the personal struggles and obstacles that come with making big changes. With our "never alone" coaching & community you'll see greater progress in both the short and long term.
For more information and to schedule go here: NEW 42-DAY ULTIMATE MIND & BODY MAKEOVER​​​
Don't wait!!!
This is a remote coaching program, so you do not need to live in the Bay Area.
Schedule your phone interview by clicking here: NEW 42-DAY ULTIMATE MIND & BODY MAKEOVER​​​
Please share my educational content with your friends and family and help us influence even more Silicon Valley Residents to reach their full potential >> Subscribe
​Your friend & coach,
Brien
Telephone: 650-654-4604​
P.S. Remember that I'm only a call or email away to assist you in all things health & fitness. If you are not yet one of my prized clients apply as soon as you can to schedule an interview for our NEW 42-DAY ULTIMATE MIND & BODY MAKEOVER​​​​ starting soon!
APPLY HERE>>> Brien Shamp's Transformation Coaching Interview​​​​