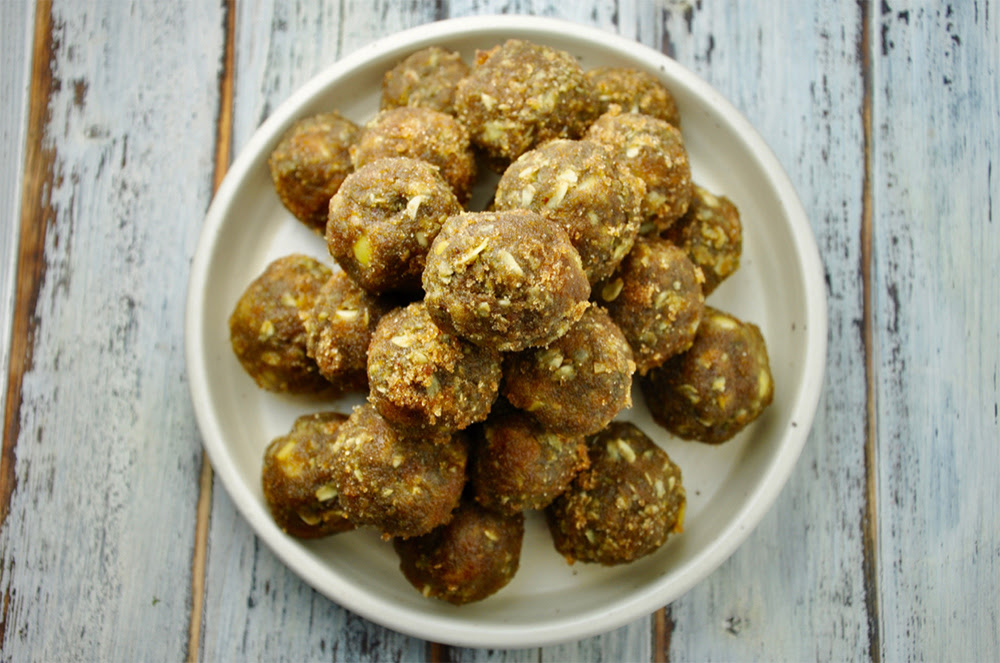 Craving a donut? I've got you covered! Part of maintaining a fitness lifestyle is quenching your unhealthy cravings with healthier options, like these protein balls. You get to enjoy similar flavors to the food that you crave, while filling your body with usable, favorable nutrients rather than a bunch of sugar and flour.
The average apple fritter donut contains 450 calories, 17 grams of fat, 63 grams of carbs and 38 grams of sugar! Compare that to the 100 calories, 2 grams of fat, 14 grams of carbs, 16 grams of protein and only 2 grams of sugar found in 2 of these tasty protein balls!
Making smart food choices like this will transform your fitness goals from being merely a vision to being reality.
There are two super ingredients in these protein balls: protein powder and powdered greens. Yep, you read that correctly. These tasty, donut-replacing protein balls are not only super low in sugar, they also contain powdered super greens. Considering that only 14 percent of adults get adequate amounts of veggies and greens in their diet, we could all benefit from some super greens.
What you need
Serves 30
1 apple
1 teaspoon coconut oil
½ teaspoon ground cinnamon
1½ cups old fashion oats
¼ cup Powdered Greens
½ cup Vanilla Protein Powder
¼ teaspoon sea salt
1 cup Sunflower or Pecan/Walnut Butter
3 tablespoons almond milk
1 tablespoon brown Swerve
Instructions
For the Coconut Amino Sauce
Seed and finely dice the apple. I leave the skin on for the added flavor and fiber.
Place a small skillet over medium-low heat. Add the coconut oil, diced apple, and cinnamon. Mix until fully combined. Cook, stirring occasionally until the apples are tender. Remove from heat and set aside.
In the mixing bowl of an electric mixer combine the oats, powdered greens, protein powder and sea salt. Mix until fully combined.
Add the nut or seed butter, almond milk and cooked apples. Mix on medium-low until a soft, crumbly dough forms. Test pressing the dough together into a ball – if it doesn't stick together then add an additional tablespoon of almond milk.
Form the dough into 30 balls using a Tablespoon to scoop, and rolling the dough together in your hands. Roll the balls in the brown Swerve. Place the balls on a plate and chill in the fridge until you're ready to enjoy.
Nutrition
One ball equals: 50 calories, 1g fat, 21mg sodium, 7g carbohydrate, 2g fiber, 1g sugar and 8g protein.
Help me spread the fitness truth… If you know any friends, family or co-workers who would enjoy my newsletter give them a subscription by using the 'Refer a Friend' link below!
If you have been trying to get healthy and fit on your own and you are now ready to allow us to help you, we are ready to coach you to success.
Set up a strategy session for our new personalized coaching program here: 1:1 Success Coaching.
Let me know if you need any help.
Questions? Please comment below or call/text us at 650-514-6679.
Contact us to set up a strategy session for our new personalized coaching program here: https://www.iamapriority.com/
Your friend & coach,
Brien
Telephone: 650-514-6679
About Brien
Disclaimer
P.S. I'm only a call or email away to assist you in creating LIFE BALANCE.  Let's talk more>>> https://www.iamapriority.com/