OMG!
Kelly lost 24.1 lbs of FAT in only 51/2 weeks.
She also lost 7.4% body fat, gained 4.6 lbs of muscle and lost approximately 18″ of her old self.
Love the Fit3D Body Scanner: FIT3D​
Check out the data below.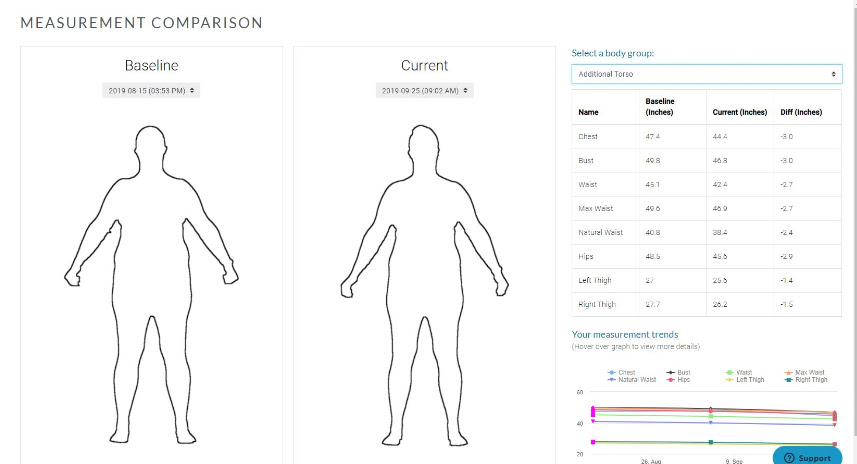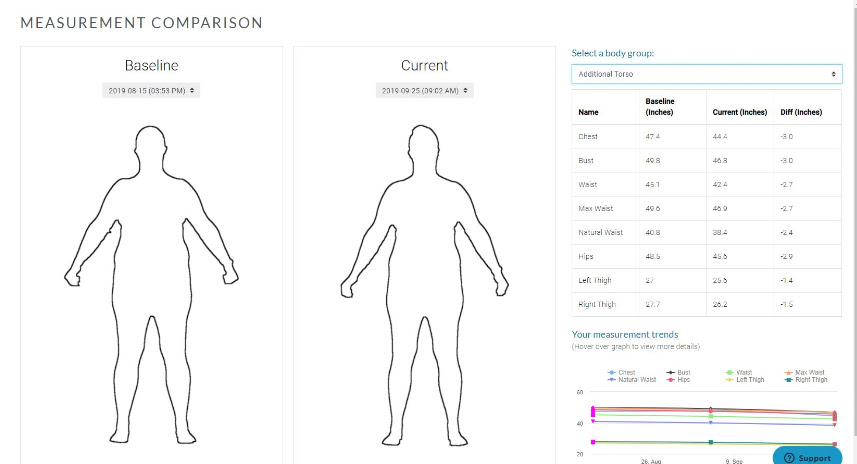 Many people are successful regardless of the program, but give up because they simply don't understand what is happening.
Failure is highly likely when you solely focus on weight loss or don't track anything 🙁
You must gain clarity of your numbers to realize your progress.
Here is the other cool thing about Kelly…
She hasn't stepped foot inside a gym.
She is doing our online 1:1 Success Coaching Program.​
​This program begins with our 42-day mind & body makeover system, but continues as long as you want support.
Kelly does lot's of walking, some basic strength training movements at home with a big focus on daily rituals, mindset, breathing, hydration, sleep and foods that improve digestion!
She eats a moderate amount of carbs (quinoa, sweet potatoes, rice, fruit), high-quality protein and healthy fat sources.
Are you starving yourself with Intermittent Fasting, suffering with Keto or Paleo?
If you are ready to get results that will last a lifetime, schedule a free consultation here: 1:1 Success Coaching Program.​​
I am taking on 5 more online coaching clients to start on Monday!
Let's make some lifestyle changes together!
Happiness and health are only a few days away!
​Prices will be increasing in October, so get in for a discounted rate now >>> 1:1 Success Coaching Program.​​
Please share my educational content with your friends and family and help us influence even more Silicon Valley Residents to reach their full potential >> Subscribe
If you have been trying to get healthy and fit on your own and you are now ready to allow us to help you, we are ready to coach you to success.
Set up a strategy session for our new personalized coaching program here: 1:1 Success Coaching.
Let me know if you need any help.
Questions? Please comment below or call/text us at 650-514-6679.
Contact us to set up a strategy session for our new personalized coaching program here: https://www.iamapriority.com/
Your friend & coach,
Brien
Telephone: 650-514-6679
About Brien
Disclaimer
P.S. I'm only a call or email away to assist you in creating LIFE BALANCE.  Let's talk more>>> https://www.iamapriority.com/