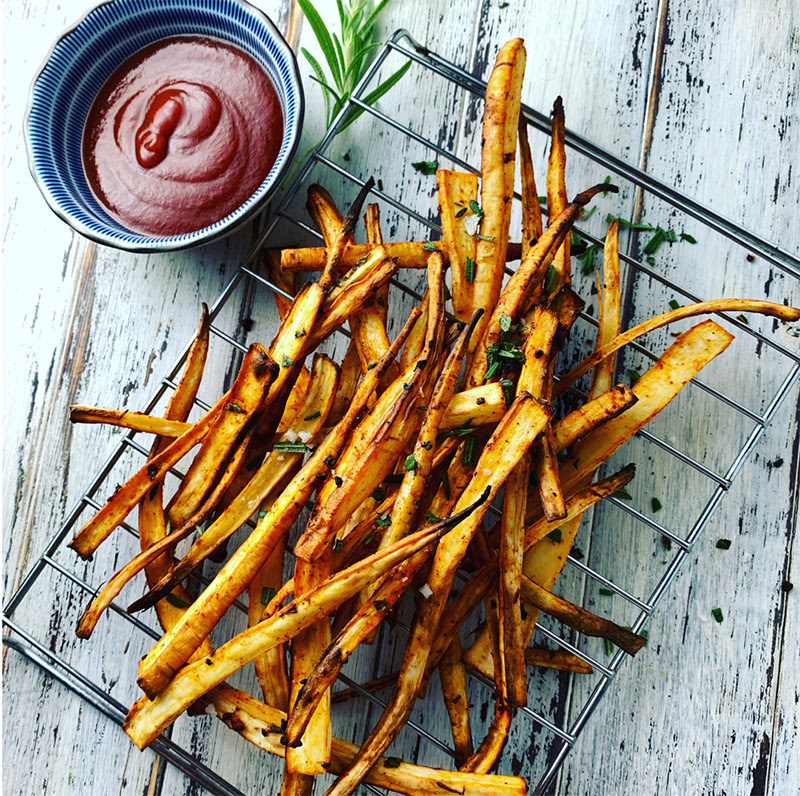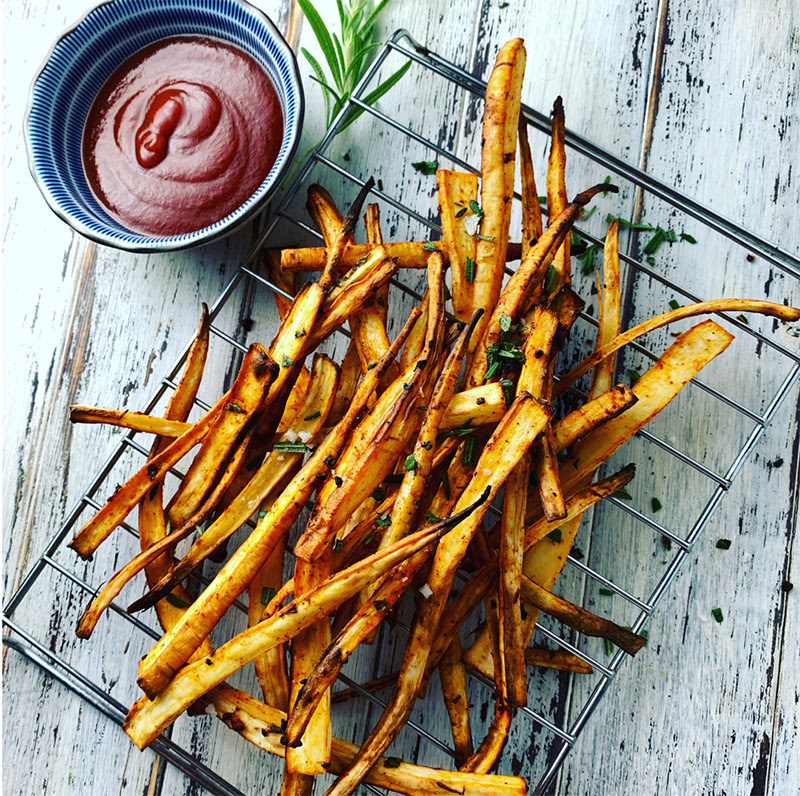 Yes, this is happening! Real healthy fries that taste AMAZING and are made with BAKED PARSNIPS!
Most people love fries, however, regular fries really are so bad for our fitness. All that unhealthy fat and all of those calories are hard to justify eating very often. And having a belly full of greasy fries never feels too awesome.
Nothing comes as close to tasting like real, authentic fries than these baked parsnip fries. If you are a fry lover, please try this recipe and let me know what you think!
What you need
Serves 6
2 large parsnips
1 tablespoon fresh rosemary, minced
2 garlic cloves, chopped
3 tablespoons extra-virgin olive oil
sea salt and black pepper to taste
½ teaspoon sweet paprika
natural ketchup
Instructions
Preheat the oven to 450°F. Line an 18 × 26-inch rimmed baking sheet with parchment paper.
Peel the parsnips and trim the ends. Cut each parsnip in half horizontally, then make 2 cuts in each direction to create 9 sticks out of each half. In a large bowl, toss the parsnip sticks with the rosemary, garlic, olive oil, sea salt, pepper, and sweet paprika.
Spread the fries over the prepared baking sheet. Roast for 10 minutes, flip, and then roast for another 10–15 minutes, until browned and crispy. Serve with the ketchup.
Nutrition
One serving equals: 128 calories, 8g fat, 37mg sodium, 15g carbohydrate, 15g fiber, 3g sugar and 1g protein.
Help me spread the fitness truth… If you know any friends, family or co-workers who would enjoy my newsletter give them a subscription by using the 'Refer a Friend' link below!
Please let me know if you have any questions!
Your friend and coach,
Brien Shamp
650-654-4604
​admin@brienshamp-com.wp3.staging-site.io​​​