Are you working out… but not losing the FAT?
It can be so frustrating when you spend the time and effort working out and the scale doesn't budge, right?
Has this ever happened to you?
I still find it amazing how one can truly transform in as little as 42 days and without a change in exercise!!!
I learned this lesson back in 1999 when I did my Master's thesis on the changes in body composition with different modalities.
I looked at every study with cardio, strength training and nutrition and I was shocked that exercise made very little difference (regardless of the type of exercise).
One's nutrition was the clear influencer.
This changed my path forever and is the reason why I GUARANTEE RESULTS today.
I know what works and what doesn't work.
She wanted to lose 7-10 lbs, reduce joint pain and bloating, distension & heartburn.Barbara has been working out for years and signed up for our 42 Day Ultimate Mind & Body Makeover​​ because she was in a rut.
Barbara achieved her goals and more.🏆🎈🏆​
She lost 12.8 pounds, 6.9% body fat and approximately 12 inches in only 42 days 💪💪💪
She is not done yet and is continuing with the coaching program.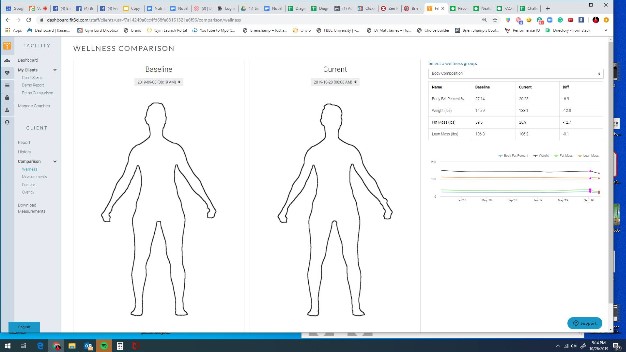 ✅If you're interested in joining our program schedule a consultation here: 42 Day Ultimate Mind & Body Makeover​​ ​
If you are not in the local area we can schedule a phone consultation. Reply back to this email with your interest.
Barbara did our 1:1 Success Coaching Program that can be done anywhere in the world. We will always have that option given there is nothing better with it's high-level of personalization.
On November 11th we will also start a new Hot For The Holidays Challenge that will end Sunday, December 22nd. The most important goal for this challenge is to keep you focused on you during the holidays, so you don't gain weight like most do.
✅If you're interested in joining any of our programs schedule a consultation here: 42 Day Ultimate Mind & Body Makeover​​ ​​
Learn how our 3-pillar coaching system helped Barbara and thousands of our clients:
💪Fitness – Most of our remote coaching clients simply walk and if they have the time we give them some basic strength training to do. If local, our clients can do our workouts, which are designed to stoke your metabolism so you can burn calories all day long even when your laying on the couch.
🥣Nutrition – Our easy meal plan system that even a 12-year-old could follow so you can know exactly what you need to eat and not have to worry about what's for dinner ever again.
👑Accountability is King – Know exactly what to do with your fitness, nutrition, and other lifestyle rituals so you can watch the scale change daily and have your clothes fitting better weekly.
Have a great Sunday!
Please share my educational content with your friends and family and help us influence even more Silicon Valley Residents to reach their full potential >> Subscribe
​Your friend & coach,
Brien
Telephone: 650-654-4604​

P.S. Remember that I'm only a call or email away to assist you in all things health & fitness. If you are not yet one of my prized clients apply as soon as you can to schedule an interview for our Programs: 42 Day Ultimate Mind & Body Makeover​​ ​​​