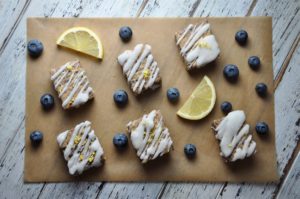 Here's a lovely departure from chocolate-themed protein bars, with a delightful combination of lemon and blueberry. If lemon isn't your thing then leave out the lemon zest and embrace the vanilla-blueberry vibe.
The protein that I used in this recipe is my favorite vanilla flavored protein from Designs for Health​.
You could certainly make this recipe using whatever vanilla protein powder you have on hand, though do know that the quality of the protein will have an effect on the flavor of your protein bars. Use one that's really tasty!
Courtesy of RealHealthyRecipes.com​
What you need
Serves 20
1 cup unsweetened coconut milk
1 cup sunflower butter
½ cup dried blueberries
2 cups uncooked, rolled oats
1 Tablespoon lemon zest
2 cups purepaleo vanilla protein powder​ *Vegan option: Organic Purepea​
3 Tablespoon coconut oil, melted
1 Tablespoon Swerve confectioners style erythritol
Instructions
Line the bottom and sides of an 9 × 9-inch baking pan with parchment paper, so that the parchment paper hangs over the sides. (These will be your handles to easily pull the protein bars from the pan once they're done.) Lightly rub the parchment paper with coconut oil.
Combine the coconut milk and sunflower butter in a pot over low heat. Stir often, until fully combined and smooth, then remove from heat and allow to cool.
Blend the dried blueberries in a food processor until creamy. Add the sunflower butter mixture, oats, and protein powder and pulse until fully incorporated. Press the dough into the prepared dish and place in the freezer for 10 minutes. Cut into 20 bars.
Whisk the coconut oil and Swerve together in a small bowl. Drizzle over the protein bars. Chill until the glaze sets, about 5 minutes. Store in the fridge.
Nutrition
One serving equals: 80 calories, 5g fat, 23mg sodium, 5g carbohydrate, 1g fiber, 1g sugar and 12g protein.
Help me spread the fitness truth… If you know any friends, family or co-workers who would enjoy my newsletter give them a subscription by using the 'Refer a Friend' link below!
Please let me know if you have any questions!
Your friend and coach,
Brien Shamp
650-654-4604
​admin@brienshamp.com​​​