Here's Why You Can't Lose Weight (3 Bad Habits)
Are you stuck in the frustrating cycle of gaining and losing the same 5 pounds but never reaching your goal weight?
Read on to see if these 3 Bad Habits are holding you back from the body of your dreams…
Bad Habit #1: You're Eating TOO MUCH (healthy food)
Yes, there is such thing as TOO MUCH healthy food. Extra calories can come from healthy food just as readily as from unhealthy foods.
Yes, healthier foods are typically lower in calories, so it will take you longer to gain weight by overeating roasted chicken and sweet potato than it would ice cream and chips, but the extra pounds will add up nonetheless.
If you would like to lose weight then it's very important to control your portions, even of super healthy foods, since ALL foods carry calories, and too many calories will block weight loss.
Bad Habit #2: You're Dehydrated (not enough water)
If you are like most people then you live in a state of partial dehydration, every day. Being dehydrated is dangerous for all of your major body organs, and it blocks fat loss. Additionally, water is an appetite suppressant that fills your stomach and prevents you from overeating, and add to that the fact that thirst is often mistaken for hunger pains, you can see why dehydration leads to frustrating weight gain.
Make it a point to sip on water throughout the day you'll avoid dehydration, making it easier to drop those unwanted pounds.
Bad Habit #3: You're Slacking (in the gym)
If you want to lose weight and see a measurable transformation in your body, then going through the motions at the gym simply won't cut it. I understand the desire to stay as comfortable as possible at all times, even when this means moving lightly through a workout, rather than going all in. And, yes, going through the motions with a workout is better than sitting on the couch, it certainly won't get you the body that you want.
How hard do you exercise on a scale of one to ten? If you know your workouts land below an 8 then seriously consider stepping up the intensity of your next workout in order to really burn that fat away.
I'm here to help you transform your body (and your whole life!) through the power of health & fitness.
Call or email today to get started on a health & fitness plan that will help you achieve the body that you really want, and that you truly deserve.
Some of Our Recent Transformations…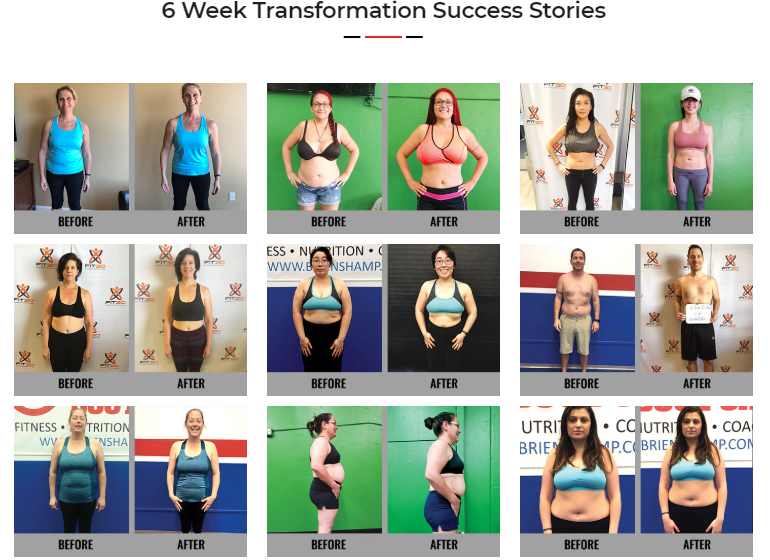 Main Headquarters:

603 Harbor Blvd
Belmont, CA 94002

Ph: 650-654-4604

BRIEN SHAMP
BS, CSCS, CMT, C.H.E.K. NLC II, SGXMet-Rx "World's Best Personal Trainer", 2000
"Best in the Bay" for Weight Loss by KRON 4, 2009
"Top 10 Personal Trainers" by PFT Magazine, 2011
"Best Boot Camp" by SF A-List, 2014 & 2016
3 Ways to INCREASE your exercise INTENSITY
If you are guilty of Bad Habit #3 from above (slacking in your workouts) then use the following three tips to bring your routine up to the next level:
Create Instability:Use your entire body, and target your core, by performing exercises that engage stabilizing muscles. To do this use an exercise ball, a balance board, a balance disk, or you could simply stand on one leg.
Increase Resistance:The higher the resistance that you incorporate with your routine translates into higher intensity and more calories burned. Some ideas for adding resistance include: carrying dumbbells while doing lunges, wearing a weighted vest while walking or jogging, or putting a weight between your feet while doing leg raises.
Include Intervals:Interval training is an amazing tool for creating short yet effective workouts. Don't worry, it's not complicated. Interval training is simply alternating between different short bursts of activity.