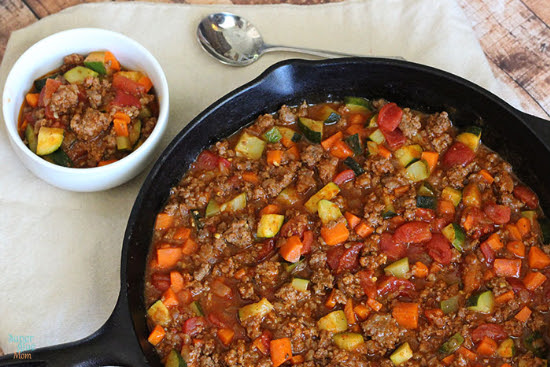 It's getting cold outside and it's that time for some hearty food to stick to your ribs 🥶️️☃​
Are you interested in a recipe for the World's Best Turkey Chili​?
You will see it below.
This is one of the 60 Approved HOT for the Holidays Challenge ​recipes in our program starting Monday.  We have 6 weeks of dietitian-approved meal guides.
Let me know if you think the chili classifies as World's Best!
Ingredients: (Serves 8)
1 tbsp. Extra Virgin Olive Oil
3 Garlic (cloves, minced)
2 Yellow Onion (medium, diced)
2 Red Bell Pepper (chopped)
2 Carrot (large, diced)
2 stalks Celery (diced)
1 Sweet Potato (peeled, chopped)
2 lbs. 93% Lean Ground Turkey
1 1/2 cups Water (more as needed)
15 oz. tomato Sauce
14 1/2 oz. Diced Tomatoes
3 tbsp. Chili Powder
1 tbsp. Cumin
1 tbsp. Paprika
1 tsp. Cayenne Pepper (extra if you like it hot!)
1 tsp. Sea Salt
1/2 tsp. Black Pepper
1 tsp. Red Pepper Flakes
2 Avocados
Directions: Heat the oil in a large soup pot over medium heat. Add garlic, onions, bell peppers, carrots, celery, and sweet potato. Sauté́ for 7-9 minutes, until soft.
Add the turkey and cook until it starts to brown (about 7 minutes), mixing often to break up chunks.  Add 1 1/2 cups water, tomato sauce, diced tomatoes in their juices, chili powder, cumin, paprika, cayenne, salt, black pepper, and red pepper flakes.  Bring to a boil, then reduce to a simmer. Keep uncovered. Cook for about 45 minutes, stirring often.  When it's done, add extra spices to reach your desired flavor.  Slice avocado for garnish, and enjoy!
NOTES: Leftovers – You'll use 4 servings of this recipe in the next few days. Divide the chili in half, and freeze the rest for later on in the challenge!
​Want more healthy recipes and a program designed to help you lose 13-21 pounds and 2 dress sizes?
Check out our new transformation challenge starting Monday>>> HOT for the Holidays Challenge ​​​​
The Hot for the Holidays Challenge is a step-by-step 6-week transformation program for men & women that includes:
A comprehensive clean meal plan
6 weeks of dietician-approved meal guides
6 weekly print-&-go grocery lists
Comprehensive Client Success Manual
Over 60 delicious & easy to make recipes
"Dining Out" Swap Guide
Recommended supplementation
Fat-burning & body sculpting workouts
Pre & post Fit3D Body Scans
Support and daily inspiration to help you feel FABULOUS, look AMAZING, & have more Confidence than ever.
*New Participants can take 3 group training sessions per week at any location and time
*5:25 am Harbor location is full to new clients
All participants are eligible to win a Grand Prize and runner up prizes during the 6 weeks.​
​Picture yourself waking up with MORE energy, sleeping better, feeling better, kicking the cravings, and having shed off 13-21 pounds of unwanted fat….even during the holiday season!
You will literally transform your life from the inside out…and the changes will last a lifetime.
This program will change your mindset about food. You'll learn so much about your body and how just a few small tweaks can completely change your life.
It's time to make YOU a priority!

Ready to join in on this life-changing challenge and be a part of an amazing community?
For more info and to sign up >>>:  HOT for the Holidays Challenge​​​
Committed to Your Success!

Chris & Brien Shamp
P.S. Make sure to forward this email to any of your family or friends- it could change their life!