Cinnamon Baked Mini Pumpkin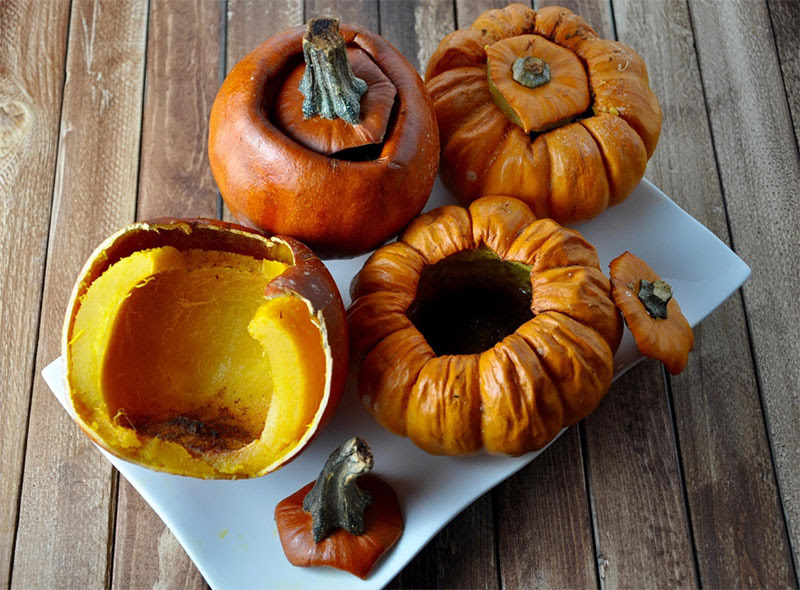 Pumpkin is the most popular flavor of the season, but you should be careful with it.
Most pumpkin-flavored seasonal products are LOADED with added sugars that will ruin your fitness results. Be careful when indulging in pumpkin-flavored sweets in order to keep your sugar intake low enough to allow for fat loss.
This recipe for simple, cinnamon baked pumpkin gives you the opportunity to indulge in the sweet, seasonal flavor that you crave, while staying on track with your fitness and fat loss journey.
Courtesy of RealHealthyRecipes.com
What you need
Serves 1
1 mini baking pumpkin
½ teaspoon coconut oil, melted
1 teaspoon coconut sugar
sprinkle of ground cinnamon
sprinkle of sea salt
Instructions
Preheat the oven to 350 degrees F. Fill a small casserole pan with ¼ inch of water.
Carefully cut the top off the pumpkin, so that you can set the top back on for baking. Scrape out the seeds and pulp. (Save those pumpkin seeds to roast!)
Pour the melted coconut oil into the pumpkin. Sprinkle with the coconut sugar, cinnamon and sea salt. Place the top back on the pumpkin and put into the casserole pan of water.
Bake for 30-40 minutes, until really tender. Enjoy!
Nutrition
One serving equals 119 calories, 3g fat, 246mg sodium, 24g carbohydrate, 7g fiber, 12g sugar, and 3g protein
More of my recommended recipes can be found here>>> Recipes
We are adding more recipes daily.
I hope that you get a chance to give this recipe a try soon.
Remember that I'm only a call or email away to assist you in all things health & fitness. If you are not yet one of my prized clients apply as soon as you can to schedule an interview for our new High-Performance Training Program (HPT)​ or 1:1 Success Coaching​​ starting Monday!
APPLY HERE>>> Brien Shamp's Transformation Coaching Interview​​​
I'd love to help you achieve your best self!
Please share my educational content with your friends and family and help us influence even more Silicon Valley Residents to reach their full potential >> Subscribe
Your friend & coach,
Brien
Telephone: 650-654-4604
Share this delicious healthy recipe by forwarding it to your friends and family! Click Here to share it on Facebook