Do you really want to be fit & healthy?
Do you ever give up what you want MOST for what you want NOW?
Think about it…
If what you want most is to lose the weight—once and for all—but then you give in and order pizza for dinner, you've just given up what you want MOST (a healthier, leaner body) for what you wanted NOW (convenient and comforting food).
It's worth thinking about.
Are your actions congruent with your goals?
This is true of any goal, it's not limited to your health & fitness journey.
If you want to write a book, you'd better make time to sit down and type.
If you want to travel the globe, you'd better get yourself a passport.
If you want to run a marathon, you'd better start training.
If you want your kids to live a healthy life, you'd better model it for them.
If your actions don't support your goal, then you'll never accomplish it, and maybe you didn't really want it.
Your actions will always dictate your results.
If getting fit & healthy is something that you really want, take the action to reach out to me to get started on a coaching plan that will give you the opportunity to do what's hard now, to achieve the body & health that you really want.
I'm here to help you….HELP ME, HELP YOU 🙂
Some of Our Recent Transformations…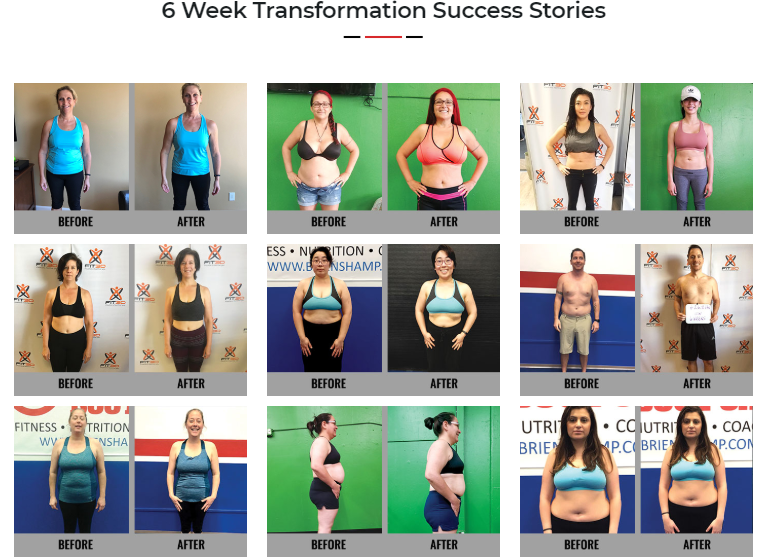 Main Headquarters:

603 Harbor Blvd
Belmont, CA 94002

Ph: 650-654-4604

BRIEN SHAMP
BS, CSCS, CMT, C.H.E.K. NLC II, SGX

Met-Rx "World's Best Personal Trainer", 2000
"Best in the Bay" for Weight Loss by KRON 4, 2009
"Top 10 Personal Trainers" by PFT Magazine, 2011
"Best Boot Camp" by SF A-List, 2014 & 2016
What's Your Goal?
In order for your actions to be congruent with your goals, you must define precisely what your goals are.
Take the time to think about, clearly define, and then write out your goals.
This is your target.
Now, examine your actions. Are they congruent with your goals? Are they taking you in the right direction? If yes, then keep it up! If no, then it's time to adopt some new actions.
Call or email me if you'd like help.