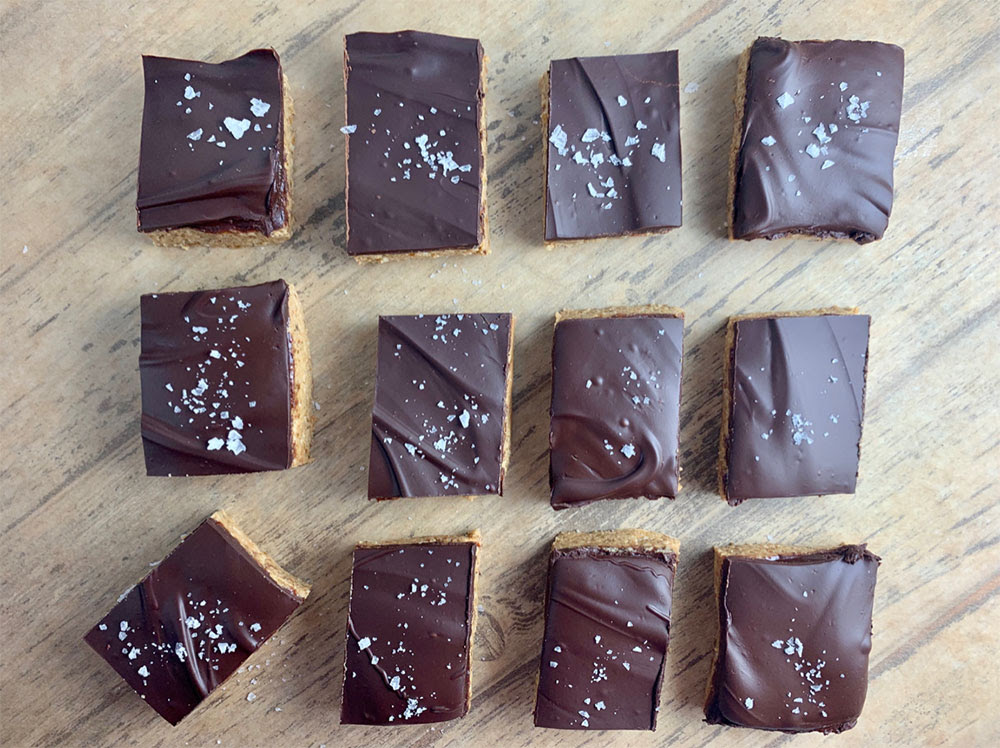 Here's a dessert bar that you can feel good about indulging in.
It's not loaded with sugar, and yet it tastes sweet.
It has a healthy serving of protein, and yet it's creamy and decadent.
It has delicious chocolate and protein flavors, and yet contains zero refined sugar.
These Peanut Butter Chocolate Protein Dessert Bars are the perfect dessert to make and share this holiday season. Make tons! These disappear very quickly…
Courtesy of RealHealthyRecipes.com
What you need
Serves 25
½ cup unsalted, shelled sunflower seeds
½ cup raw, unsalted pepitas
1 cup Pitted Dates
1 (16oz) jar of natural peanut butter
1 cup vanilla protein powder
1 (9oz) bag Lily's stevia-sweetened chocolate chip
1 teaspoon coconut oil​
1 tablespoon flake sea salt (optional topping)
Instructions
Line a 9×11 casserole pan with parchment paper.
Place the seeds in a food processor and pulse until fine. Remove and set aside.
Place the dates in the food processor and pulse until creamy.
Add the seed powder, peanut butter and protein powder to the food processor and blend until smooth and fully incorporated. Press the dough into the bottom of the prepared pan.
In a double boiler, melt the chocolate and coconut oil. Pour over the bars and place in the fridge for 15 minutes to chill. Sprinkle with some flaked sea salt. Cut into bars and enjoy!
Nutrition
Four Meatballs equals: One bar equals: 198 calories, 14g fat, 86mg sodium, 6g carbohydrate, 6g fiber, 6g sugar and 10g protein.
Help me spread the fitness truth… If you know any friends, family or co-workers who would enjoy my newsletter give them a subscription by using the 'Refer a Friend' link below!
Please let me know if you have any questions!
Your friend and coach,
Brien Shamp
650-654-4604
​admin@brienshamp.com​​​