It's normal to exercise less this time of year.
Most will blame this on all of the holiday activities that they have to take care of.
The parties, the shopping, the baking, the wrapping…
While it's true that there's a lot to do, that's not really why you aren't working out. You've been just as busy in the past and you managed to keep your workouts consistent.
So what is it? Why did you skip your workout?
It's because of stress.
The stress is real this time of year.
There are obligations and expectations coming at you from every angle, and somehow you are supposed to juggle it all with a smile on your face.
It's a setup for mismanaged stress to wreak havoc on your healthy routine.
Mismanaged stress leads to overeating, over drinking, headaches, weight gain, anxiety, fatigue and trouble sleeping. All of this overwhelm makes the idea of heading to the gym for a workout pretty unappealing, especially when the other option is to get another hour of sleep.
So the question for you, my friend, is how will you better manage your holiday stress?
Will you continue to allow stress to increase your calories and rob your workouts over the next couple of weeks? Will you be heavier and more exhausted as you ring in the new year?
Or will you combat stress in the most proactive, effective way?
By exercising.
A good workout gets your blood pumping and releases happy hormones.
A good workout makes you more likely to eat healthier.
A good workout makes your sleep deeper and more restful.
A good workout is the best way to feel a burst of natural energy.
I'm here to help you get the BEST workout possible! Call or email today and let's get you on the schedule!
Some of Our Recent Transformations…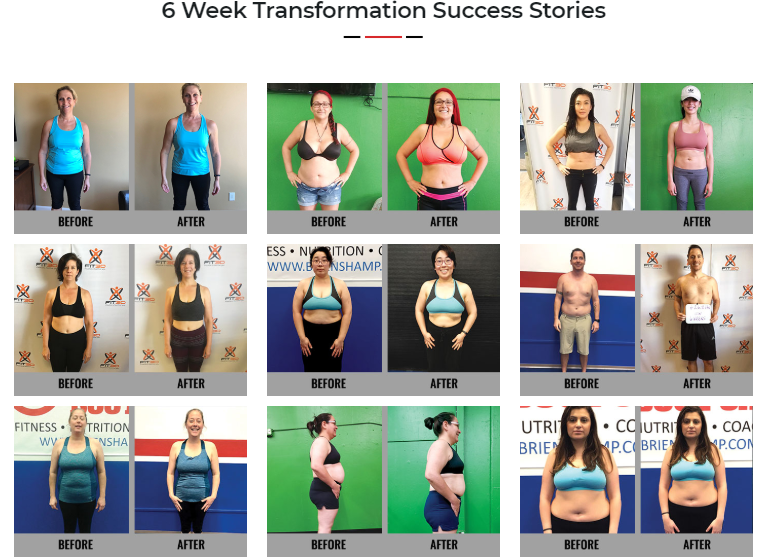 Main Headquarters:

603 Harbor Blvd
Belmont, CA 94002

Ph: 650-654-4604

BRIEN SHAMP
BS, CSCS, CMT, C.H.E.K. NLC II, SGXMet-Rx "World's Best Personal Trainer", 2000
"Best in the Bay" for Weight Loss by KRON 4, 2009
"Top 10 Personal Trainers" by PFT Magazine, 2011
"Best Boot Camp" by SF A-List, 2014 & 2016Brien Shamp's Fitness, Nutrition & Coaching
The Gift You DESERVE
This is the time of year that you focus in on getting something special for all the important people in your life. You put time and thought into finding that perfect gift that will make them feel loved.
But what about you?
With all that you do for others, it's time to do something just for you.
How about the gift of a totally reshaped body in 2020? You and I both know that you deserve it.
It's your time…embrace it.
Let me be the one to make it happen. Call or email now and we'll get started.