Are you sure your dinner is healthy?
This is your year to finally lose the weight and get fit…and it all starts with dinner.
You may be exercising hard, getting plenty of sleep and staying diligent in your hydration, but if you're eating the wrong food for dinner then sadly you will never reach your goals.
Most dinners are too high in calories to allow you to steadily lose weight and progress towards your ideal body. This goes for restaurant dinners as well as homecooked meals.
However, the good news is that it is possible to enjoy wholesome, fitness dinners that support your fat loss results whether out-to-eat or cooking at home.
I want to make this as simple as possible for you so that you'll actually use it to transform the way that you select your nightly meal. Rather than worrying about calories and measurements simply ask these 3 questions before you sit down to eat your next meal and visualize a clock…
Fat Burning Question #1: Is there Lean Protein?
Your meal should start with a lean source of high-quality protein that's cooked in a healthy way. Choose protein that has been grilled, baked, broiled or steamed. Fish, chicken, turkey, egg, lean red meat and beans all make great choices.
Picture your plate as a clock and fill it from 12 o'clock to 4 o'clock with your choice of protein. This is roughly 1/3 of your plate.
Fat Burning Question #2: Is it mostly Fibrous Veggies/Greens?
Next comes fibrous veggies and greens. Fiber is a huge part of eating healthy and being lean. Fibrous foods will fill you up while delivering vitamins and nutrient in a low-calorie package. Salads and seasonal vegetable make perfect choices for your fat burning meal. Just be sure to watch out for heavy dressings or fattening cooking methods that may add additional calories to the dish.
On your plate fill between 4 o'clock and 10 o'clock with these fibrous veggies and greens. This is roughly half of your plate.
Fat Burning Question #3: Is the Starch in Moderation?
Are you gaining weight or not able to lose weight? Chances are your meals are filled with too many starches, including potatoes, pasta, rice, grains and bread products. To make these starches more fattening, they are often cooked with added fats that increase the calorie count. For your starch stick with wholesome, complex carbs like sweet potatoes, brown rice, sprouted grains and legumes.
On your plate fill between 10 o'clock and 12 o'clock with these wholesome starches. This is the smallest portion on your plate for a reason, as these starchy carbs are calorie-dense and just a little goes a long way. Fight the urge to push the line by allowing yourself to eat more starches than you need.
I hope that these 3 simple questions make it easier for you to choose your next fat burning meal by cutting through some of the confusion. While there are certainly more specific, measured meal plans that lead to body transformation success, this guide is meant to keep you on track when you aren't sure what you should be eating.
For the most effective results, pair your clean eating with a challenging exercise routine. That's my specialty!
Call or email today and I'll get you started on an exercise program that will transform your body once and for all.
Some of Our Recent Transformations…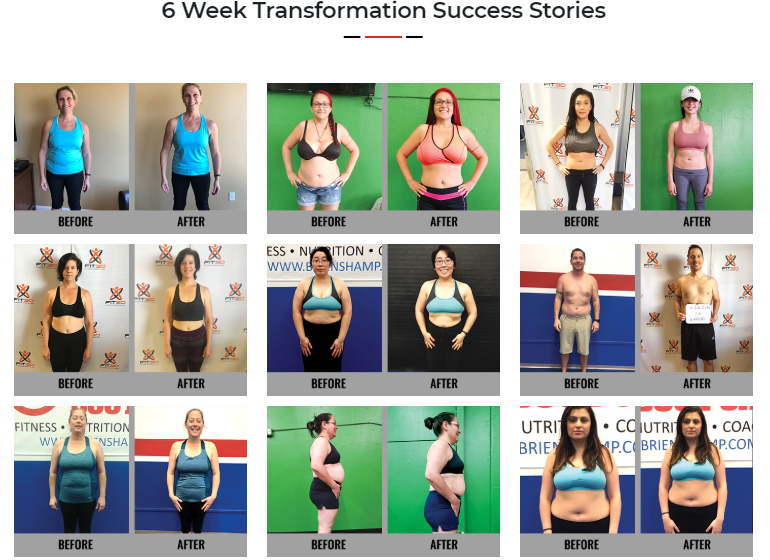 Main Headquarters:

603 Harbor Blvd
Belmont, CA 94002

Ph: 650-654-4604

BRIEN SHAMP
BS, CSCS, CMT, C.H.E.K. NLC II, SGX

Met-Rx "World's Best Personal Trainer", 2000
"Best in the Bay" for Weight Loss by KRON 4, 2009
"Top 10 Personal Trainers" by PFT Magazine, 2011
"Best Boot Camp" by SF A-List, 2014 & 2016
Keep Calories in Check While Eating Out
The 3 Fat Burning Questions above are meant to keep the content of your meal on track…however eating out brings up additional challenges! Here are some tips to help you keep your calories in check while eating out…
Forget the Extras: Ask for the bread basket or chip basket to be removed from your table and stick to eating only what you ordered.
Don't Drink Calories: Stick with water or unsweetened iced tea in order to avoid a few hundred extra calories.
Get Dressing On the Side: Ask for sauces and dressings on the side to cut down calories.
Order Healthier Sides: Just because the grilled fish comes with a side of potatoes doesn't mean you have to get it that way. Ask for a side of steamed veggies instead.