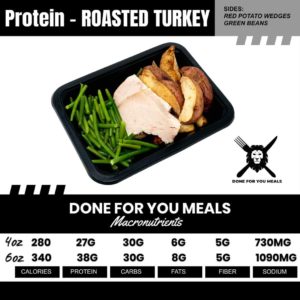 Everything I read doesn't look good.
I am less worried about getting the virus and more worried about being quarantined ???
I just did some shopping on Thrive Market, which I love. Pricing is significantly less than whole foods and other stores. Major savings on things you probably already buy.
Get prepared ASAP- I had items in my cart and they were slowly disappearing as the store sold out.
If you have never used Thrive get 25% off your first order with this link: http://thrv.me/WM55v7
Also, consider purchasing Done for you Meals (our meal delivery service) and keep them in your freezer: https://refer.prestigelabs.com/meals
If you buy 12 or more you will receive a FREE Homemade Vanilla Ice Cream Protein.
Use my link above and get my employee discount. $2 off per meal.
Save $1 per meal when you pick any subscription option *You can even choose every 4 weeks
Below is a great resource from my colleague Denet Lewis to review ASAP.
*************************************************************
Before a Pandemic
Store a two week supply of water and food.
Periodically check your regular prescription drugs to ensure a continuous supply in your home.
Have any nonprescription drugs and other health supplies on hand, including pain relievers, stomach remedies, cough, and cold medicines, fluids with electrolytes, and vitamins.
Get copies and maintain electronic versions of health records from doctors, hospitals, pharmacies, and other sources and store them, for personal reference. Get help accessing electronic health records.
Talk with family members and loved ones about how they would be cared for if they got sick, or what will be needed to care for them in your home.
If a pandemic should break out in the United States, officials urge the public to take steps to limit the spread of the germs to prevent infection. Tips include staying away from those who might be sick, frequent hand washing, and avoiding touching your eyes, nose, and mouth with your fingers.
Here are some ideas for foods to stock up on. This list is very general so you can tailor it to your family. For example, you can choose the organic version or the inexpensive version, you can opt for your family's particular favorites, etc.  (Just think no more shopping for 2-3 weeks (what do you need to get)
Canned fruits and vegetables
Canned meat (tuna, chicken, ham) (It's a good idea to get extra just in case it's needed for longer than 2 weeks)
Canned soup and pasta meals (Noodles)
Crackers
Peanut butter or other nut/seed butters
Pasta (Noodles, yes even instant ramen)
Frozen fruits and vegetables Kale / Chard
Dehydrated soups
Jerky
Meat for the freezer
Coffee/tea
Powdered milk (Protein powder)
Granola
Dried fruit
100% fruit juices
V-8 or other vegetable juices (use these instead of water to rehydrate your dehydrated soups)  (Bone Broth) (Soup stock)
Nuts and seeds
Canned beans
Snack food – protein bars, cookies, chips – and occasional treat will help with the monotony – HIDE THESE or they'll be the first to go
Rice (get plenty)
Quinoa
Cereal/oatmeal
Refried beans
Condiments (lots of spices)
Add some long-lasting fresh food:
Potatoes
Sweet potatoes/yams
Carrots
Cabbage
Onions
Apples
Oranges
Again, this is a general guideline – go with the things your family likes.
Also, remember we are going to see shortages of products manufactured in China.  
Get extra batteries,  vitamines,  I can send out a separate list of things from China if you want, but for starters things of anything you might need from WallMart, Target or CVS.
During a Pandemic
Limit the Spread of Germs and Prevent Infection
Avoid close contact with people who are sick.
When you are sick, keep your distance from others to protect them from getting sick too.
Cover your mouth and nose with a tissue when coughing or sneezing. It may prevent those around you from getting sick.
Washing your hands often will help protect you from germs.
Avoid touching your eyes, nose or mouth.
Practice other good health habits. Get plenty of sleep, be physically active, manage your stress, drink plenty of fluids, and eat nutritious food.
Take time to learn how to decontaminate yourself.  Do not bring the virus into your house, clean your phone and change clothes when you get home as a starter.   Use Sanitizer to wipe off things such as your purse.    If the virus outbreak gets bad in your area much more drastic steps will be needed such as a multi-stage decontaminating.
Furthermore, you'll want to avoid doctor's offices and hospitals as much as possible, as they're likely to be full of people with the virus you're hoping to avoid. be prepared for things that can be treated at home.
Vitamins (especially a good multivitamin, B-complex, C, D3, and Zinc lozenges) Elderberry syrup
Cold and flu meds – if someone gets sick, you'll be able to treat the symptoms at home (herbs too)
Expectorants – this one is very important with the current outbreak – get that gunk out of people's lungs
Cough drops or lozenges,  (Elderberry ones are the best)
Peppermint tea and other herbal teas
Basic OTC medications you might need over the period of a month without going to the store – think about what your family uses regularly (heartburn meds, ibuprofen, antidiarrheals, etc.)
Wound care supplies – if it's reasonable to do so, you'll want to treat wounds at home instead of sitting in a germ-filled emergency room. Here's an article about building your first aid kit.
Could be a good idea to get a thermometer and an oxygen saturation tester (around $20 on Amazon)
Don't forget prescription medications. If you have family members who take medications on a regular basis, try to get a few months ahead. You may have to pay out of pocket for extra months but you can't risk running out of something essential.
Sanitation and hygiene supplies for a quarantine
You'll still have sanitation and personal hygiene needs during a quarantine. Use this list as a general guideline and pick up the items your family uses regularly.
Lysol spray
Lysol wipes
Bleach (an extra few gallons is a good idea, it's going to be useful)
Hand sanitizer
Antibacterial soap
Extra Soap
Rubbing alcohol (70% and higher) (don't forget to sanitize your cell phone)
Laundry soap (you will be doing extra wash)
Note for Bleech: 1/3 cup bleach per 1 gallon of water OR 2 tablespoons bleach per 1-quart water. This will give you a 1000+ ppm disinfecting solution. After cleaning the area with detergent, spray or wipe with surfaces with the disinfectant. Make sure to allow surfaces to fully air dry.
Even if you never use things like bleach or Lysol, this might be the time that you'll want to do so. Sometimes situations call for natural remedies, but sometimes they call for chemical ones or a combination of the two.
Soap (remember you will be washing your hands a lot!)
Feminine hygiene supplies
Shampoo and conditioner
Lotion and skincare products
Toilet paper (get extra!!)
Razors (us guys will have to shave to that face mask will seal better)
Shaving cream
Toothpaste
Baby supplies
Deodorant
Trash bags (different sizes and get extra!) (Get extra-large trash bags too)
Plastic zip lock bags
Plastic wrap
Painters tape
Duck tape
You may not require everything on this list and you may already have most of what you need – use this as a guide and personalize it.
Pet supplies for a quarantine
Don't forget your pets during a quarantine.
Pet food / Canned Fish
Pet litter
Treats
Pet medications
Pee pads
Poo bags
Think about how your pets will do their business during a quarantine. If you have a yard, it's fine to let them go outside – your goal is to stay away from other people, not to stay cooped up inside in the dark. However, if you're in an apartment building you may need to think about other options for Fido.
Special needs to consider before a quarantine
Do you have any family members with special needs? These could be health-related or based on age. Here are a few things to think about.
Baby food
Baby formula
Diapers (we need to get a lot)
Wipes
Ensure or other meal replacements
Special equipment
Print off instructions for using any special equipment just in case you can't access the internet.
How will you entertain yourself and your family during a quarantine?
What will you do if you have to stay home for a while? If you or your family members are always on the go, you may begin to get cabin fever pretty quickly. Hit up the dollar store and the Goodwill for some cheap entertainment and stash these things away to pull out when people begin complaining about being "bored."
Cards
Games
Books
Craft supplies
New toys
Puzzles
Puzzle books
Don't forget batteries and chargers! You can also check out this article for ways to keep adults entertained and this one to keep the kids busy.
How much food do you need for a quarantine?
This is the million-dollar question. It's difficult to guess how much food you'll need for a quarantine because you don't know how long it will go on. (More on that in a moment.) I suggest you start with a two-week supply and then add extra weeks as quickly as possible.
The good thing about shelf-stable food is that if you don't need it for this particular emergency, you'll be able to use it later and work it into your menus when things go back to normal.
***********************************************************************************
Consider this disinfectant for some added defense: BRIOTECH
Here is another great resource from one of the first molecular virologists in the world to work on coronaviruses: More on Coronavirus
*****************************************************************
If you would like to talk about how to improve your immune system feel free to reach out!
Please share my educational content with your friends and family and help us help more people in need!
Your friend & coach,
Brien
Telephone: 650-654-4604