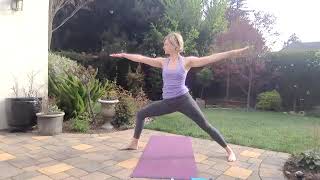 Brien Shamp's Online Workouts: Sunday Yoga with Lori Yu 3-22-20
Ideally, warm-up prior with self-massage. See this post: How To Prepare For Workouts
Breathe, Stretch, Release and create CALM!
Lori Yu has been a Physical Therapist for 21 years and she specializes in treating pelvic floor dysfunctions such as urinary leakage, pelvic pain and core instabilities that can lead to low back pain, poor posture and diastasis recti (splitting of the abdominals).
Not only does she have great knowledge as a Physical Therapist, but she is also an outstanding Yoga instructor and my sister from another life 🙂
Lor's Credentials:
• Bachelor of Science, Physical Therapy – Daemen College
• Certificate of Achievement in Pelvic Physical Therapy (CAPP-Pelvic) from the American Physical Therapy Association (APTA)
• Clinical Nutritionist • Yoga Instructor
• CPR certified
Visit website at: www.yuphysicaltherapy.com
I hope that you get a chance to give this workout a try soon.
Remember that I'm only a call or email away to assist you in all things health & fitness. If you are not yet one of my prized clients apply as soon as you can to schedule an interview for our new Coaching Program starting Monday!
APPLY HERE>>> Brien Shamp's Transformation Coaching Interview​​​
​​I'd love to help you achieve your best self!
For more workouts like this check out our online workout area here: Fitness Challenges/Travel Workouts​ We are adding more workouts daily
Please share my educational content with your friends and family and help us influence even more people to reach their full potential >> Subscribe​ & Get Our Free Foam Roller Guide Resource
Your friend & coach,
Brien
Telephone: 650-654-4604
Share this #Workout by forwarding it to your friends and family!