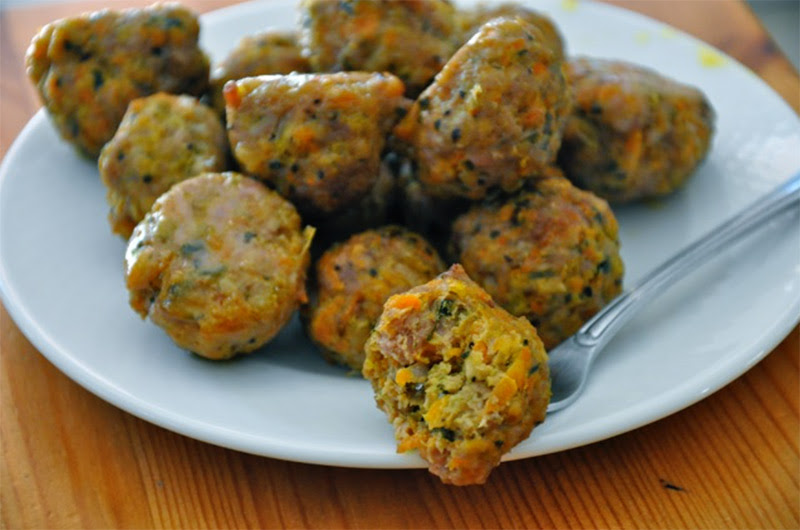 EASY Baked Meatballs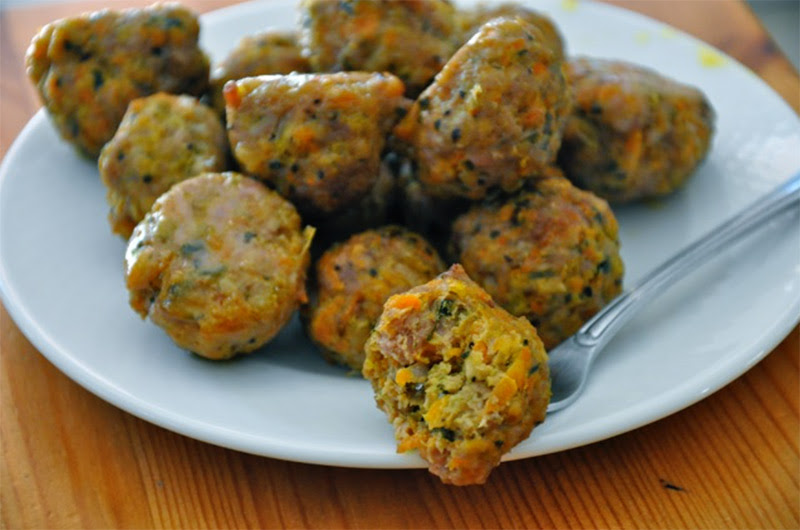 These meatballs are packed with protein and veggies, making it the perfect snack, breakfast, lunch or dinner. Make a quick batch on the weekend, and then enjoy throughout your week.
Courtesy of RealHealthyRecipes.com​
What you need
Servings: 24
2 lbs ground pork
1/2 teaspoon salt
1/2 teaspoon ground fennel
1/4 teaspoon ground sage
1/4 teaspoon onion powder
1/4 teaspoon garlic powder
dash of pepper
2 teaspoons coconut oil
2 cloves garlic, minced
1 small onion, finely chopped
2 celery stalks, finely chopped
2 carrots, finely chopped
1/4 cup pecans, finely chopped
1/4 cup fresh parsley, finely chopped
Instructions
Preheat oven to 425 degrees F.
In a medium bowl combine the ground pork with all of the spices. Don't be afraid to get your hands dirty!
Place a skillet over medium heat and warm the coconut oil. Add the garlic, onion, celery, carrots, pecans and parsley. Cook for about 3 minutes, until soft. Set the mixture aside to cool.
Add the vegetable mixture into the ground pork and combine well. Use your hands to form golf ball sized meatballs.
Place the meatballs in an oven-safe baking dish. Bake for 30 minutes, or until cooked all the way through.
Nutrition
One serving equals: 77 calories, 4g fat, 76mg sodium, 1g carbohydrate, .5g fiber, and 8g protein.
More of my recommended recipes can be found here>>> Recipes
We are adding more recipes daily.
I hope that you get a chance to give this recipe a try soon.
Remember that I'm only a call or email away to assist you in all things health & fitness. If you are not yet one of my prized clients apply as soon as you can to schedule an interview for our new 1:1 Success Coaching​​ starting Monday!
APPLY by sending us an email here: admin@brienshamp-com.wp3.staging-site.io​
I'd love to help you achieve your best self!
Your friend & coach,
Brien
Telephone: 650-654-4604
Share this delicious healthy recipe by forwarding it to your friends and family! Click Here to share it on Facebook