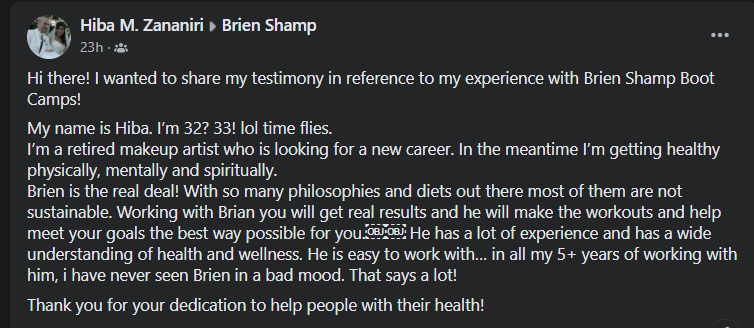 "Hi there! I wanted to share my testimony in reference to my experience with Brien Shamp Boot Campus!
My name is Hiba. I'm 32? 33! lol time flies.
I'm a retired makeup artist who is looking for a new career. In the meantime I'm getting healthy physically, mentally and spiritually.
Brien is the real deal! with so many philosophies and diets out there most of them are not sustainable. Working with Brien you will get real esults and he will make the worouts and help meet your goals the best way possible for you. He has a lot of experience and a wide understanding of health wellness. He is easy to work with… in all my 5+ years of working with him, i have never seen Brien in a bad mood. That saya a lot!
Than you for your dedication to help people with their health!" Hiba Zananiri
If you have been trying to get healthy and fit on your own and you are now ready to allow us to help you, we are ready to coach you to success.
Set up a strategy session for our new personalized coaching program here: 1:1 Success Coaching.
Let me know if you need any help.
Questions? Please comment below or call/text us at 650-514-6679.
Contact us to set up a strategy session for our new personalized coaching program here: https://www.iamapriority.com/
Your friend & coach,
Brien
Telephone: 650-514-6679
About Brien
Disclaimer
P.S. I'm only a call or email away to assist you in creating LIFE BALANCE.  Let's talk more>>> https://www.iamapriority.com/