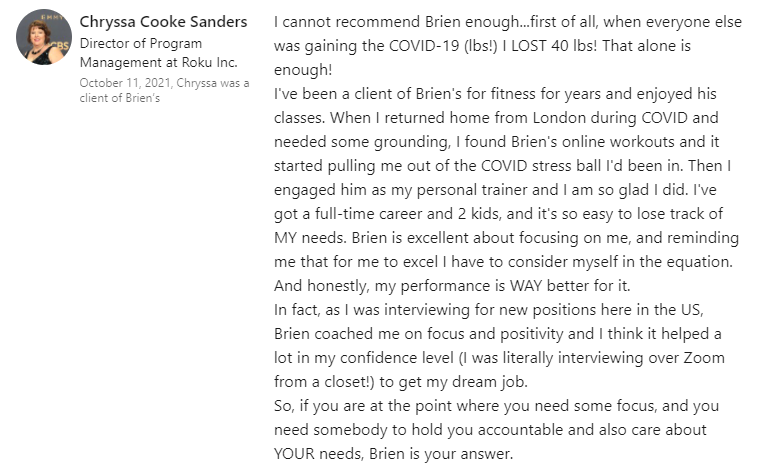 "I cannot recommend Brien enough… first of all, when everyone else was gaining the COVID-19 (lbs!) ILOST 40lbs! That alone is enough! I've been a client of Brien for fitness for years and enjoyed his classes. When I returned home from Landon during COVID and needed some grounding, I found Brien's online workouts and it started pulling me out of COVID stress ball I had been in. Then i engaged him as my personal trainer and I am so glad i did, I have got full time career and 2 kids, and it's so easy to lose track of my needs. Brien is excellent about focusing me, and reminding me that for me to excel I have to consider myself in the equation. An my performance is way better for it.
So, if you are the point where you need some focus, and you need some focus, and you need somebody to hold you accountable and also care about Your needs, Brien is your answer." Chryssa Sanders
If you have been trying to get healthy and fit on your own and you are now ready to allow us to help you, we are ready to coach you to success.
Set up a strategy session for our new personalized coaching program here: 1:1 Success Coaching.
Let me know if you need any help.
Questions? Please comment below or call/text us at 650-514-6679.
Contact us to set up a strategy session for our new personalized coaching program here: https://www.iamapriority.com/
Your friend & coach,
Brien
Telephone: 650-514-6679
About Brien
Disclaimer
P.S. I'm only a call or email away to assist you in creating LIFE BALANCE.  Let's talk more>>> https://www.iamapriority.com/