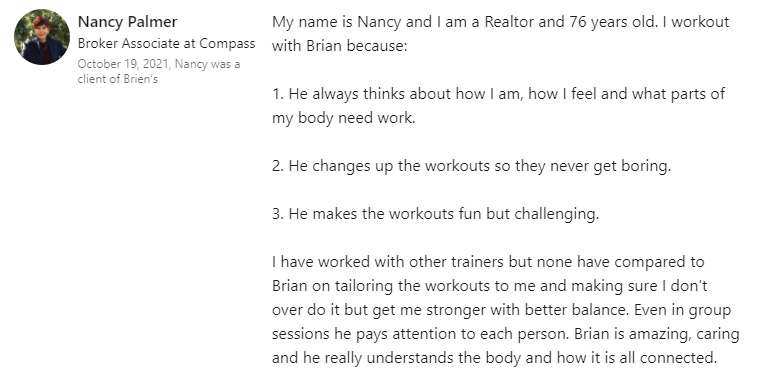 My name is Nancy and I am a Relator and 76 year old. I workout with Brian because: 1. He always think about how I am, how I feel and what parts of my body need work 2. He changes up the workouts so they never getting boring. 3. He makes workouts fun but challenging.
I have worked with other trainees but none compared to Brien on tailoring the workouts to me and making sure I don't over do it but get me stronger with better balance. Even in group sessions he pays attention to each person. Brien is amazing, caring and he really understands the body and how it is all connected.
If you have been trying to get healthy and fit on your own and you are now ready to allow us to help you, we are ready to coach you to success.
Set up a strategy session for our new personalized coaching program here: 1:1 Success Coaching.
Let me know if you need any help.
Questions? Please comment below or call/text us at 650-514-6679.
Contact us to set up a strategy session for our new personalized coaching program here: https://www.iamapriority.com/
Your friend & coach,
Brien
Telephone: 650-514-6679
About Brien
Disclaimer
P.S. I'm only a call or email away to assist you in creating LIFE BALANCE.  Let's talk more>>> https://www.iamapriority.com/