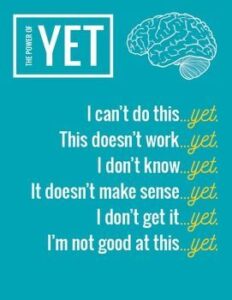 The word of the week is YET!
 Yet is defined as "up until the present or a specified or implied time; by now or then. By itself, yet may seem like an odd word of the week; however, yet can be added to a negative belief to offer the possibility of something more for the future.

A growth mindset focuses on the power of Yet. The possibility of something more allows you to get better over time, even if you haven't achieved success…yet.

We tend to be our own worst enemy. This week focus on the thoughts and words you speak to yourself because your language creates your current emotional state, and your future.
Consider the following:

I am not good enough…YET.
I can't do this… YET.
I don't have enough money…YET.
I am not strong… YET.
I am not where I want to be… YET.
I don't have enough time…YET.

Be the best you can be today and remember…The best is yet to come! Let's do this!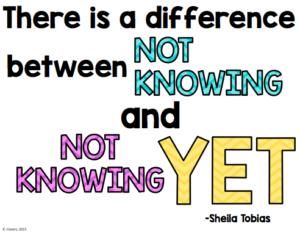 We have opened up another start date for my personalized I AM A PRIORITY – 7 DAILY PRIMAL NEEDS COACHING PROGRAM here: I AM A PRIORITY
Do you want to lose 10+ lbs and at least 1 clothing size in the next 6 weeks and keep it off permanently?
More importantly, do you need to enhance your immune system right now given all the craziness going on?
If you are interested or know someone that might be, check out the details here >>> I AM A PRIORITY
Note: This is a virtual program
If you feel you are not as healthy as you should be right now, let's have a call to talk more. We have a few openings for a quick call this week.
Questions? Please call/text me at 650-514-6679.