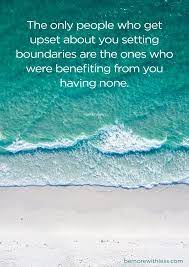 The word of the week is BOUNDARIES.
According to Wikipedia, Personal boundaries are guidelines, rules or limits that a person creates to identify reasonable, safe and permissible ways for other people to behave towards them and how they will respond when someone passes those limits.[1] 
Have you thought much about your boundaries?
What are your boundaries when it comes to Work & Relationships?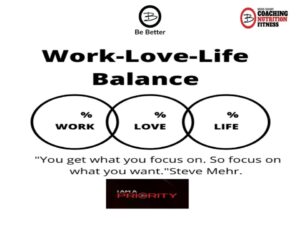 How would you grade your WORK-LOVE-LIFE BALANCE? See the graphic to the right. If you were to analyze your typical day, what % of time and effort do you give your work, your relationships (love) and your life (self-care)?
Whatever you focus on is what you get, so if you want to improve your LOVE & LIFE give it more attention and set work boundaries. Generally, people tend to focus on work and neglect LOVE & LIFE. 
"Boundaries are a form of self-care—they protect us physically and emotionally. But many of us feel guilty when we prioritize our needs, set boundaries, and practice self-care." Sharon Martin
For a great article on boundaries from Sharon Martin go to:  Set Boundaries and Practice Self-Care Without Feeling Guilty
If your anxiety & stress is high and you are lacking in the self-care department, I recommend getting more clear on your boundaries. Below are some examples to consider.
What time do you shut off your cell for the night?
What time do you shut down work?
What are your boundaries in the kitchen? Are you a short-order cook for your family?
What time do you go to bed?
Do you have boundaries around Netflix/television shows/movies?
Do you respond to work emails on the weekends/late at night?
What are your boundaries when it comes to community service work?
What are your boundaries for privacy?
What are your boundaries for taking care of others?
"Love yourself enough to set boundaries. Your time and energy are precious.  You get to choose how you use it.  You teach people how to treat you by deciding what you will and won't accept."  Anna Taylor
We have opened up another start date for my personalized I AM A PRIORITY – 7 DAILY PRIMAL NEEDS COACHING PROGRAM here: I AM A PRIORITY
Do you want to lose 10+ lbs and at least 1 clothing size in the next 6 weeks and keep it off permanently?
More importantly, do you need to enhance your immune system right now given all the craziness going on?
If you are interested or know someone that might be, check out the details here >>> I AM A PRIORITY
Note: This is a virtual program
If you feel you are not as healthy as you should be right now, let's have a call to talk more. We have a few openings for a quick call this week.
Questions? Please call/text me at 650-514-6679.