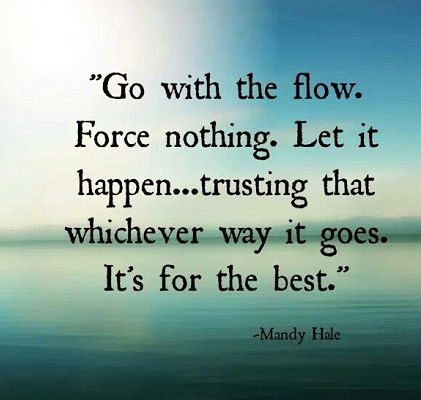 The word of the week is FLOW.
Flow is to move in one direction, especially continuously and easily.

A flow state is when you are in the zone. The mental state in which a person performing some activity is fully immersed in a feeling of energized focus, full involvement, and enjoyment in the process of the activity.
Are you distracted easily?

Are you overwhelmed?

Do you need to improve your flow?
If you are in flow you are probably experiencing efficiency, abundance and joy right now. 
"Go with the flow. Force nothing. Let it happen – trusting that whichever way it goes. It's for the best." Mandy Hale
You are exactly who you need to be & where you need to be. Have faith!
Let me know if you need help with your flow.
We are taking on 5 more new coaching clients for the "I AM A PRORITY" Personalized Coaching Program starting on Monday.  If you have been trying to get healthy and fit on your own and you are now ready for Structure, Accountability and a RESULTS GUARANTEED Program, we are ready to coach you to success.
Questions? Please call/text me at 650-514-6679
For past words of the week: Word of the Week