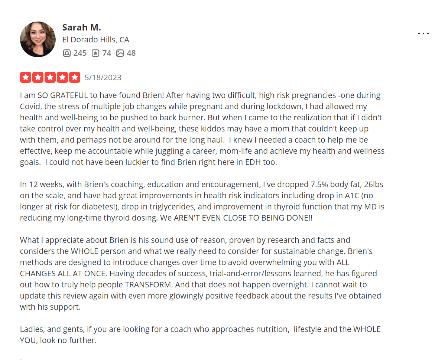 Witness the amazing power of determination and the impact of 12 weeks on Sarah's life! 🙌
In just a short span of time, Sarah achieved remarkable results that are truly inspiring. Let's take a look at her incredible accomplishments:
👗 Dropped 3 dress sizes 💪 Shed 7.5% body fat ⚖️ Lost an impressive 26 lbs
But that's not all! Sarah experienced significant improvements in her overall health:
✅ A drop in A1C levels (no longer at risk for diabetes!) ✅ Decreased triglycerides ✅ Improved thyroid function, leading to reduced medication dosing
Sarah's journey is a testament to the power of taking charge of one's health and well-being. Her story reminds us that it's never too late to prioritize ourselves and make positive changes.
"I am SO GRATEFUL to have found Brien! After having two difficult, high risk pregnancies -one during Covid, the stress of multiple job changes while pregnant and during lockdown, I had allowed my health and well-being to be pushed to back burner. But when I came to the realization that if I didn't take control over my health and well-being, these kiddos may have a mom that couldn't keep up with them, and perhaps not be around for the long haul.  I knew I needed a coach to help me be effective, keep me accountable while juggling a career, mom-life and achieve my health and wellness goals.  I could not have been luckier to find Brien right here in EDH too.
In 12 weeks, with Brien's coaching, education and encouragement, I've dropped 7.5% body fat, 26lbs on the scale, and have had great improvements in health risk indicators including drop in A1C (no longer at risk for diabetes!), drop in triglycerides, and improvement in thyroid function that my MD is reducing my long-time thyroid dosing. We AREN'T EVEN CLOSE TO BEING DONE!!
What I appreciate about Brien is his sound use of reason, proven by research and facts and considers the WHOLE person and what we really need to consider for sustainable change. Brien's methods are designed to introduce changes over time to avoid overwhelming you with ALL CHANGES ALL AT ONCE. Having decades of success, trial-and-error/lessons learned, he has figured out how to truly help people TRANSFORM. And that does not happen overnight. I cannot wait to update this review again with even more glowingly positive feedback about the results I've obtained with his support.
Ladies, and gents, if you are looking for a coach who approaches nutrition,  lifestyle and the WHOLE YOU, look no further."
Get inspired and discover how you too can make lasting changes to your health and well-being. Let's start your transformation journey together! 💪🌈
Brien Shamp's Coaching, Nutrition & Fitness
Taking the guesswork out of creating a healthy & fit lifestyle 
✔️Helping you take the guesswork out of becoming healthy
✔️Creating true healthy, sensible change for the long run
✔️We help you understand how to truly have a healthy mind & body through the 7 Daily Primal Needs
✔️We leverage the latest in technology….test, don't guess
We are taking on 10 more stressed and overwhelmed men and women who are ready to leverage the latest technology to reduce weight, especially belly fat and improve sleep, fitness, digestion, hormonal balance overall health and quality of life.
Finally, achieve your health and fitness goals with an experienced and success proven holistic model called the 7 Daily Primal Needs.
Contact us to set up a discovery session for our new personalized coaching program here: https://www.iamapriority.com/
Telephone: 650-514-6679
About Brien
Disclaimer