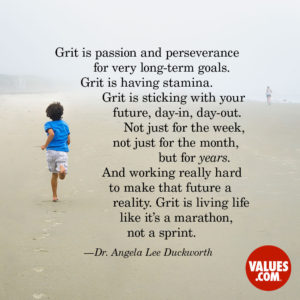 The word of the week is GRIT!
Discover the power of GRIT and unlock your untapped potential! 💪✨
Grit, as defined by psychologist Angela Duckworth, is all about perseverance and unwavering passion for your long-term goals. It's the ability to stay determined and motivated, even in the face of failure and adversity.
Research shows that being gritty plays a vital role in achieving success, surpassing talent and intelligence alone. It's the resilience to stick with what matters most to you and bounce back stronger from setbacks (Duckworth 2016).
So, how's your GRIT?
Remember, the journey towards weight loss and fat loss is not always smooth sailing. Challenges will arise, but it's crucial not to give up on your aspirations. Embrace your grit and let it fuel your progress!
But here's the thing: even the grittiest individuals sometimes need support when the going gets tough. If you're feeling overwhelmed or in need of guidance, know that I'm here to help you every step of the way.
Let's get gritty this week and show the world what we're capable of! 💥💪
Share in the comments below how you're embracing grit in your life and tag someone who embodies determination.