Comprehensive Evaluation – $150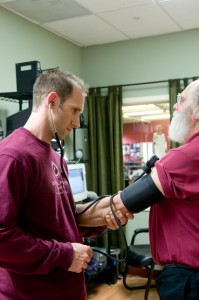 Brien Shamp's Comprehensive Evaluation is unique to each client, but in general, this session will delve into your training history, medical history, nutritional intake, lifestyle and goals.  Your training commitment will also be questioned in order to develop a realistic weekly exercise program.  A thorough assessment of your posture, flexibility, mobility, breathing, strength, endurance, power, gait, balance, stability, body composition, movement analysis and agility may be done to serve as a baseline and to develop a unique, safe and effective program for you.
An analysis of what was observed in the evaluation and consideration of your goals will then be used to design a program specifically for you.  You will receive a personalized exercise program that may include self-massage, flexibility, cardiovascular, core, posture, strength training, nutrition and lifestyle recommendations.
This evaluation is completed in one 1-hour long session. Once you have completed your purchase, you will receive an email within one day to schedule your comprehensive evaluation session. I am looking forward to meeting you!