Here's a simple, delicious vegetable side dish that your whole family will love. It's a great way to increase the fiber content of your meal. Simply add a serving of healthy animal protein such as chicken, beef, bison, pork, lamb, and or wild fish and you have a wonderfully fit meal. This is clean eating 🙂
Servings: 4
INGREDIENTS:
For the Zucchini Boats
4 small, organic zucchini
¼ cup kalamata olives, seeded and chopped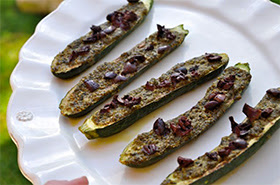 For the Pesto
¼ cup raw pecans
1 cup fresh basil leaves
2 cloves garlic, chopped
2 Tablespoons olive oil
¼ cup nutritional yeast
1 teaspoon lemon juice
½ teaspoon sea salt
INSTRUCTIONS:
Preheat the oven to 450 degrees F.
Combine the pesto ingredients in a food processor until creamy.
Trim the ends from the zucchini and slice in half the long way.
Carefully score the flesh with short diagonal cuts.
Heat a grill pan over medium-high heat.
Brush a little olive oil on the flat side of each zucchini and place the flat side down on the hot pan.
Cook until the flat side is browned and the zucchini is starting to soften, about 4 minutes.
Transfer the zucchini to a baking pan.
Spread a Tablespoon of pesto on each zucchini slice and sprinkle with the olives.
Place in the preheated oven for 8-12 minutes, until tender.
Enjoy!
Nutritional Analysis: One serving equals: 152 calories, 10g fat, 140mg sodium, 11g carbohydrate, 4g fiber, and 6g protein.
Check out more fabulous recipes on https://brienshamp.com/recipes
Your friend & coach,
Brien
Try out the Fit Body Boot Camp Afterburn Workout for 21 days. You'll see why we're rated the best in the Bay Area! 21 Day Rapid Fat Loss Program Boot Camp Trial
Fit Body Boot Camp is the only 30 minute group personal training program that's fun, affordable, gives you fat loss results and challenges your body every time. Best of all, we guarantee you'll be happy with the results or you get your money back.
The boot camp sessions are approximately 45-50 minutes long. Each session includes a 10-15 minute warm up phase with mobility and core movements to prepare you for the 30 minute metabolic workout, and then it ends with a 5 minute cool down phase.
Telephone: 650-654-4604
About Brien
Join Brien on Facebook
Write a Google+ Review
Write a Yelp Review: Belmont Boot Camp, Burlingame Boot Camp, San Carlos Boot Camp, Shamp's Studio Boot Camp
Disclaimer