Yogurt has often been advertised as a healthy, guilt-free snack or meal replacement. This always bothers me because I know just how many simple carbs and sugars most flavored yogurts contain. Many people are deceived into thinking that the creamy, fruit flavored snack will help them lose fat, while it does just the opposite. Here's a recipe for a creamy, fruit flavored snack that is actually packed with protein and free of fattening sugars.
INGREDIENTS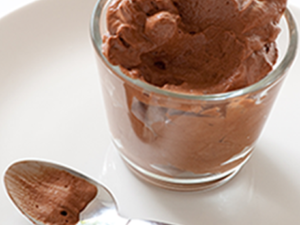 1 cup chopped fruit
1 (13.5oz) can coconut milk, full fat
1 teaspoon vanilla extract
2 frozen bananas, peeled
1 Tablespoon coconut oil
¼ teaspoon almond extract
½ cup stevia-sweetened vanilla protein powder
DIRECTIONS
Chill the can of coconut milk in the fridge overnight.
Do NOT shake the can up at all! Carefully turn the can over and open from the bottom.
Drain out the liquid and scoop the white cream into a food processor.
Discard the liquid.
Throw all of the ingredients into a food processor.
Blend on high until creamy, chill and enjoy!
Check out more fabulous recipes on https://brienshamp.com/recipes
Your friend & coach,
Brien
Try out the Fit Body Boot Camp Afterburn Workout for 21 days. You'll see why we're rated the best in the Bay Area! 21 Day Rapid Fat Loss Program Boot Camp Trial
Fit Body Boot Camp is the only 30 minute group personal training program that's fun, affordable, gives you fat loss results and challenges your body every time. Best of all, we guarantee you'll be happy with the results or you get your money back.
The boot camp sessions are approximately 45-50 minutes long. Each session includes a 10-15 minute warm up phase with mobility and core movements to prepare you for the 30 minute metabolic workout, and then it ends with a 5 minute cool down phase.
Telephone: 650-654-4604
About Brien
Join Brien on Facebook
Write a Google+ Review
Write a Yelp Review: Belmont Boot Camp, Burlingame Boot Camp, San Carlos Boot Camp, Shamp's Studio Boot Camp
Disclaimer