Just because you gave up white bread and sugar doesn't mean that you can't enjoy a delicious plate of French Toast! This recipe is made with sprouted grain bread, egg whites and protein-packed Greek yogurt. The whole family will love it.
Servings: 5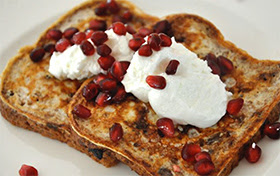 INGREDIENTS: (choose organic ingredients)…
5 slices cinnamon raisin, sprouted grain bread (substitute: gluten free bread)
1 cup egg whites
6 oz whole fat Greek yogurt
1 teaspoon vanilla extract
½ teaspoon ground cinnamon
dash of salt
Optional: additional whole fat Greek yogurt and pomegranate seeds for topping.
DIRECTIONS:
Preheat a skillet, or pancake griddle over medium high heat.
Lightly coat with cooking spray.
In a shallow bowl, whisk the egg whites, yogurt, vanilla, cinnamon and salt. Mix until well combined.
Dip each slice of bread in the egg white mixture, flipping to coat each side.
Place on the prepared skillet and cook for 3-5 minutes on each side, until the eggs set and turn golden.
Serve immediately with the additional yogurt and pomegranate.
Check out more fabulous recipes on https://brienshamp.com/recipes
Your friend & coach,
Brien
Try out the Fit Body Boot Camp Afterburn Workout for 21 days. You'll see why we're rated the best in the Bay Area! 21 Day Rapid Fat Loss Program Boot Camp Trial
Fit Body Boot Camp is the only 30 minute group personal training program that's fun, affordable, gives you fat loss results and challenges your body every time. Best of all, we guarantee you'll be happy with the results or you get your money back.
The boot camp sessions are approximately 45-50 minutes long. Each session includes a 10-15 minute warm up phase with mobility and core movements to prepare you for the 30 minute metabolic workout, and then it ends with a 5 minute cool down phase.
Telephone: 650-654-4604
About Brien
Join Brien on Facebook
Write a Google+ Review
Write a Yelp Review: Belmont Boot Camp, Burlingame Boot Camp, San Carlos Boot Camp, Shamp's Studio Boot Camp
Disclaimer