Below is a 6-Week Challenge approved recipe that you are going to love. And it will keep you lean!
Remember, our next 6 week challenge begins on Monday February 20, 2017. More details and registration here >>> 6-Week Revolution Challenge
Wouldn't it be awesome if we could eat a big bowl of noodles without any guilt over the excess carbs and calories? Well, nature has you covered with the perfect noodles found in spaghetti squash. These made-in-nature noodles are high in fiber and are very low in carbs and calories. So you can serve it up with your favorite sauce and enjoy pasta night your way.
Many recipes for spaghetti squash have you cut the squash in half lengthwise. This technique causes the strands to be cut in half, shortening them. The technique shown below, which involves cutting the squash into rings, allows for the noodles to maintain their length – giving you the most authentic noodle experience. Enjoy!
Courtesy of RealHealthyRecipes.com
Servings: 4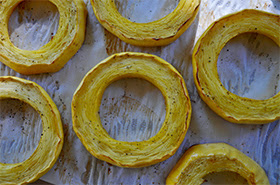 INGREDIENTS:
1 spaghetti squash
1 Tablespoon coconut oil
sea salt and black pepper
DIRECTIONS:
Preheat the oven to 400 degrees F.
Line baking sheet with parchment paper.
Cut the ends off the spaghetti squash and discard.
Slice the rest of the spaghetti squash into 1-inch rings.
Use a spoon to remove the seeds from the center of each ring.
Rub the coconut oil over all of the spaghetti squash flesh.
Generously season each ring with salt and pepper and place the rings on the parchment paper lined baking sheet.
Roast in the preheated oven for 30 minutes.
Flip each of the rings and roast for another 30 minutes, or until very tender.
Once cooled use a spoon to remove the noodles. Place all of the noodles in a large bowl and season to taste with salt and pepper.
Use as a base for your favorite spaghetti sauce. Enjoy! 🙂
Nutritional Analysis: One serving equals: 61 calories, 4g fat, 7g carbohydrate, 0g sugar, 17mg sodium, 3g fiber, and 1g protein.
More of my recommended recipes can be found here>>> Recipes
We are adding more recipes daily.
I hope that you get a chance to give this recipe a try soon. Remember that I'm only a call or email away to assist you in all things health & fitness. And if you are not yet one of my prized clients apply as soon as you can to schedule an interview for our new 6 week challenge starting soon!
APPLY HERE>>> NEW 6-Week Total Body Transformation Challenge
I'd love to help you achieve your best self!
Please share my educational content with your friends and family and help us influence even more Silicon Valley Residents to reach their full potential >> Subscribe
Your friend & coach,
Brien
Telephone: 650-654-4604
Share this delicious healthy recipe by forwarding it to your friends and family! Click Here to share it on Facebook