Eat Your Greens
Getting a daily serving of greens (such as spinach, kale, or broccoli) is a simple way to brighten your complexion and fight aging. These dark greens are packed with carotenoids that contribute to healthy, perky skin. As a bonus, a daily dose of fiber rich greens will promote fat loss – especially when you eat these greens instead of a calorie dense side, such as rice or potatoes. Start with the tasty spinach salad recipe below courtesy of RealHealthyRecipes.com
Refreshing! That is the first word that comes to mind from a blissful bite of this salad. With fresh baby spinach, tender caramelized onions, sweet juicy strawberries and crunchy sliced almonds, this salad is a minefield of pleasurable flavors. It's the perfect way to celebrate the goodness of greens.
Servings: 8
INGREDIENTS:
For the Fresh Tarragon Dressing:
¼ cup olive oil
3 Tablespoons golden balsamic vinegar
1 Tablespoon melted raw honey (OR 10 drops liquid stevia)
2 teaspoons lemon juice
2 Tablespoons fresh tarragon, minced
¼ teaspoon sea salt
dash of black pepper
For the Strawberry Spinach Salad: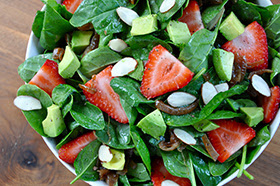 1 teaspoon olive oil
½ red onion, thinly sliced
8 cups baby spinach
8 strawberries, sliced
2 avocados, pitted and cubed
2 Tablespoons sliced almonds
sea salt
black pepper
INSTRUCTIONS:
Combine all of the dressing ingredients in a small bowl. Whisk until fully combined, set aside.
Place a small skillet over medium high heat. Add the olive oil and sliced onion. Cook for 8-10 minutes, adding a Tablespoon of water halfway through the cooking time. Once the water has evaporated and the onion is tender, remove from heat and set aside.
In a large bowl toss the spinach with the Fresh Tarragon dressing.
Top with the sliced strawberries, cubed avocado, sliced almonds, caramelized onions and a sprinkle of sea salt and black pepper.
Serve immediately. Enjoy! 🙂
Nutritional Analysis: One serving equals: 185 calories, 16g fat, 7g carbohydrate, 86mg sodium, 1g sugar, 6g fiber, and 4g protein.
Check out more fabulous recipes on https://brienshamp.com/recipes
Your friend & coach,
Brien
Try out the Fit Body Boot Camp Afterburn Workout for 21 days. You'll see why we're rated the best in the Bay Area! 21 Day Rapid Fat Loss Program Boot Camp Trial
Fit Body Boot Camp is the only 30 minute group personal training program that's fun, affordable, gives you fat loss results and challenges your body every time. Best of all, we guarantee you'll be happy with the results or you get your money back.
The boot camp sessions are approximately 45-50 minutes long. Each session includes a 10-15 minute warm up phase with mobility and core movements to prepare you for the 30 minute metabolic workout, and then it ends with a 5 minute cool down phase.
Telephone: 650-654-4604
About Brien
Join Brien on Facebook
Write a Google+ Review
Write a Yelp Review: Belmont Boot Camp, Burlingame Boot Camp, San Carlos Boot Camp, Shamp's Studio Boot Camp
Disclaimer