Looking for a crispy, crunchy snack that won't derail your fitness results? Look no further than this simple recipe for Easy Pickled Radish. Enjoy these sliced over your next salad, sprinkled over braised meat, or enjoyed straight out of the jar!
Courtesy of RealHealthyRecipes.com
Servings: 4
INGREDIENTS: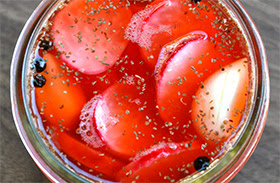 1 bunch radishes
3 cloves garlic
½ teaspoon black peppercorns
½ teaspoon celery seeds
¾ cup apple cider vinegar
¾ cup water
3 tablespoons raw honey
2 teaspoons sea salt
DIRCETIONS:
Slice the tops off of the radishes and thinly slice into rounds.
Place the radish rounds in a pint-sized canning jar.
Slice into the garlic cloves in multiple places, then put on top of the sliced radishes.
Top with the peppercorns and celery seeds.
In a small saucepan, combine the vinegar, water, honey and sea salt.
Place over medium heat and stir constantly until it comes to a boil.
Pour the mixture over the radish rounds.
Allow the mixture to come to room temperature. Serve immediately or keep in the fridge for up to 2 weeks. Enjoy! 🙂
Nutritional Analysis: One serving equals: 17 calories, 0g fat, 3g carbohydrate, 194mg sodium, 2g sugar, 0g fiber, and 1g protein.
More of my recommended recipes can be found here>>> Recipes
We are adding more recipes daily.
I hope that you get a chance to give this recipe a try soon. Remember that I'm only a call or email away to assist you in all things health & fitness. And if you are not yet one of my prized clients apply as soon as you can to schedule an interview for our new 6 week challenge starting soon!
APPLY HERE>>> NEW 6-Week Total Body Transformation Challenge
I'd love to help you achieve your best self!
Please share my educational content with your friends and family and help us influence even more Silicon Valley Residents to reach their full potential >> Subscribe
Your friend & coach,
Brien
Telephone: 650-654-4604
Share this delicious healthy recipe by forwarding it to your friends and family! Click Here to share it on Facebook