It's always fun to try a new, healthy cookie recipe! Today I have a recipe for you that is simple, wholesome, tasty and doesn't even require an oven.
These cookies are made with unsweetened coconut flakes, raw honey and coconut oil. All three main ingredients are filled with vitamins, minerals and usable, real food calories. It's a little surprising how awesome these taste too!
Courtesy of RealHealthyRecipes.com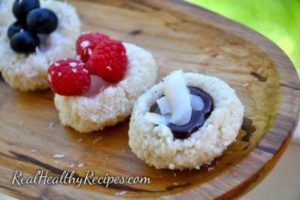 Servings: 16
INGREDIENTS:
2 cups shredded unsweetened coconut
⅓ cup raw honey, melted
¼ cup coconut oil, softened
2 teaspoons vanilla extract
¼ teaspoon sea salt
TOPPINGS: dark chocolate, fresh raspberries, fresh strawberries, almond butter, large coconut flakes, chopped nuts
DIRECTIONS:
In a medium sized bowl, combine the shredded coconut, raw honey, coconut oil, vanilla extract and sea salt.
Place in the freezer to chill for 5 minutes. This step is important to help get the cookies to stick together well. Coconut oil hardens as it chills and helps to bind the cookie together.
Shape the dough into 1 Tablespoon-sized balls. Press into a cookie shape, with an indention in the middle.
If you have trouble keeping your dough together, or if you simply want a very sturdy cookie, then melt another ¼ cup of coconut oil, then drizzle the oil in the center of your cookie.
Place in the freezer for 10 minutes. Now you've got a sturdy cookie!
Choose your cookie toppings. Fill the thumbprints with your favorite toppings. Enjoy! 🙂
Nutritional Analysis: One serving equals: 90 calories, 6g fat, 7g carbohydrate, 1g sugar, 30mg sodium, 1g fiber, and 1g protein.
More of my recommended recipes can be found here>>> Recipes
We are adding more recipes daily.
I hope that you get a chance to give this recipe a try soon. Remember that I'm only a call or email away to assist you in all things health & fitness. And if you are not yet one of my prized clients apply as soon as you can to schedule an interview for our new 6 week challenge starting soon!
APPLY HERE>>> NEW 6-Week Total Body Transformation Challenge
I'd love to help you achieve your best self!
Please share my educational content with your friends and family and help us influence even more Silicon Valley Residents to reach their full potential >> Subscribe
Your friend & coach,
Brien
Telephone: 650-654-4604
Share this delicious healthy recipe by forwarding it to your friends and family! Click Here to share it on Facebook