Had enough protein shakes for one day? How about filling up on these delicious Egg White Muffins? The inspiration for these muffins came from a fancy egg white frittata enjoyed at a swanky restaurant. This recipe gives you all the same gourmet flavor with the convenience of a handheld muffin. Enjoy for breakfast, lunch or snack time!
What makes these muffins so fancy? It has Kabocha squash and Brussels Sprouts giving stand-out flavor and texture to the egg whites. Be sure to dice your Kabocha very tiny and to shred the Brussels Sprouts quite thin. Also if you can't find Kabocha squash then Butternut Squash works too.
Courtesy of RealHealthyRecipes.com
Servings: 12
INGREDIENTS: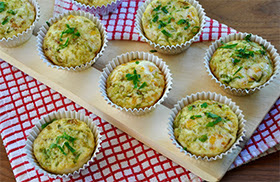 Non-stick, olive oil cooking spray
2 teaspoons olive oil
1 cup Kabocha squash, peeled, seeded and finely diced
1 cup Brussels Sprouts, finely shredded
dash of salt and black pepper
20 egg whites
DIRECTIONS:
Preheat the oven to 350 degree F.
Lightly spray 12 muffins tins with non-stick olive oil spray.
In a skillet place the olive oil over medium high heat.
Add the squash and Brussels Sprouts and sauté until tender, about 5 minutes. Season with salt and pepper.
Remove from heat and cool.
In a large bowl whisk the egg whites with a sprinkle of salt and pepper.
Stir in the tender veggies.
Divide the egg mixture into the 12 prepared muffin tins.
Bake in the preheated oven for 18-20 minutes, until the eggs have set.
Keep in an airtight container in the fridge for up to 5 days. Enjoy! 🙂
Nutritional Analysis: One serving equals: 49 calories, 1g fat, 2g carbohydrate, 88mg sodium, 1g sugar, 1g fiber, and 8g protein.
More of my recommended recipes can be found here>>> Recipes
We are adding more recipes daily.
I hope that you get a chance to give this recipe a try soon. Remember that I'm only a call or email away to assist you in all things health & fitness. And if you are not yet one of my prized clients apply as soon as you can to schedule an interview for our new 6 week challenge starting soon!
APPLY HERE>>> NEW 6-Week Total Body Transformation Challenge
I'd love to help you achieve your best self!
Please share my educational content with your friends and family and help us influence even more Silicon Valley Residents to reach their full potential >> Subscribe
Your friend & coach,
Brien
Telephone: 650-654-4604
Share this delicious healthy recipe by forwarding it to your friends and family! Click Here to share it on Facebook