Here's a fresh and delightful way to serve up tender, golden beets! To get the most flavor, we oven steam the beets and then toss them with a simple, satisfying homemade dressing. Enjoy!
Courtesy of RealHealthyRecipes.com
Servings: 6
INGREDIENTS: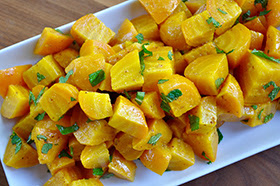 12 small golden beets, trimmed
3 sprigs fresh thyme
1 tablespoon olive oil
sea salt and black pepper
¼ cup water
For the Dressing:
1 tablespoon olive oil
1 teaspoon Dijon mustard
1 tablespoon Muscat vinegar
2 tablespoons fresh mint, minced, plus more for garnish
DIRECTIONS:
Preheat the oven to 425 degrees F.
Remove the beet greens (if still attached) and scrub the beets.
In a 9 × 13-inch glass casserole dish, toss the beets with the olive oil.
Season with sea salt and black pepper and add the sprigs of thyme and water.
Cover the dish tightly with foil and roast in the oven for an hour, or until the beets are fork-tender.
Let the beets cool in the covered pan, then rub off the beet skins with paper towels.
Cut each beet in half, then each half into quarters. Place the beet pieces in a large bowl.
In a small bowl combine the all of the dressing ingredients.
Toss the dressing with the beet pieces until fully combined.
Transfer to a serving bowl or plate and sprinkle with more mint. Serve and enjoy!
Nutritional Analysis: One serving equals: 43 calories, 4g fat, 1g carbohydrate, 3mg sodium, 0g sugar, 1g fiber, and 1g protein.
More of my recommended recipes can be found here>>> Recipes
We are adding more recipes daily.
I hope that you get a chance to give this recipe a try soon. Remember that I'm only a call or email away to assist you in all things health & fitness. And if you are not yet one of my prized clients apply as soon as you can to schedule an interview for our new 6 week challenge starting soon!
APPLY HERE>>> NEW 6-Week Total Body Transformation Challenge
I'd love to help you achieve your best self!
Please share my educational content with your friends and family and help us influence even more Silicon Valley Residents to reach their full potential >> Subscribe
Your friend & coach,
Brien
Telephone: 650-654-4604
Share this delicious healthy recipe by forwarding it to your friends and family! Click Here to share it on Facebook