Here's a great protein packed snack that will fill you with energy and help you towards your fat loss goals. It's packaged in a tasty little muffin, which is fun and flavorful, while being filled with superb nutrition. Enjoy two as a single serving!
Courtesy of RealHealthyRecipes.com
Servings: 6
INGREDIENTS: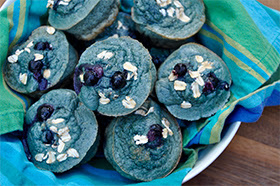 coconut oil spray
2 cups liquid egg whites
1 cup vanilla protein powder
1 cup old fashion oats, divided
1 cup frozen blueberries, divided
1 teaspoon Lemon Zest
½ teaspoon sea salt
½ teaspoon vanilla extract
DIRECTIONS:
Preheat the oven to 350 degrees F.
Lightly grease a 12-tin muffin pan with coconut oil spray.
In a blender combine the egg whites, protein powder, ¾ cup oats, ½ cup blueberries, the lemon zest, sea salt and vanilla extract. Blend until smooth.
Pour the batter evenly between the 12 muffin tins.
Divide the remaining blueberries evenly between the muffins and drop into the batter.
Place a sprinkle of the remaining oats on the top of each muffin.
Bake in the preheated oven for 18 minutes, or until done.
Remove from the oven and cool before removing from the pan.
Enjoy for up to 5 days in an airtight container in the fridge. Remember that two muffins equal one serving! Enjoy! 🙂
Nutritional Analysis: One serving equals 2 muffins: 150 calories, 1g fat, 12g carbohydrate, 290mg sodium, 3g sugar, 3g fiber, and 20g protein.
More of my recommended recipes can be found here>>> Recipes
We are adding more recipes daily.
I hope that you get a chance to give this recipe a try soon. Remember that I'm only a call or email away to assist you in all things health & fitness. And if you are not yet one of my prized clients apply as soon as you can to schedule an interview for our new 6 week challenge starting soon!
APPLY HERE>>> NEW 6-Week Total Body Transformation Challenge
I'd love to help you achieve your best self!
Please share my educational content with your friends and family and help us influence even more Silicon Valley Residents to reach their full potential >> Subscribe
Your friend & coach,
Brien
Telephone: 650-654-4604
Share this delicious healthy recipe by forwarding it to your friends and family! Click Here to share it on Facebook