Here's a great protein packed snack that will fill you with energy and help you towards your fat loss goals. It's packaged in a tasty little muffin, which is fun and flavorful, while being filled with superb nutrition. Enjoy two as a single serving!
Courtesy of RealHealthyRecipes.com
Servings: 6
INGREDIENTS: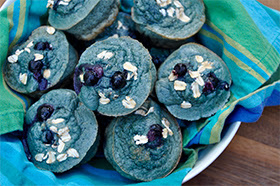 coconut oil spray
2 cups liquid egg whites
1 cup vanilla protein powder
1 cup old fashion oats, divided
1 cup frozen blueberries, divided
1 teaspoon Lemon Zest
½ teaspoon sea salt
½ teaspoon vanilla extract
DIRECTIONS:
Preheat the oven to 350 degrees F.
Lightly grease a 12-tin muffin pan with coconut oil spray.
In a blender combine the egg whites, protein powder, ¾ cup oats, ½ cup blueberries, the lemon zest, sea salt and vanilla extract. Blend until smooth.
Pour the batter evenly between the 12 muffin tins.
Divide the remaining blueberries evenly between the muffins and drop into the batter.
Place a sprinkle of the remaining oats on the top of each muffin.
Bake in the preheated oven for 18 minutes, or until done.
Remove from the oven and cool before removing from the pan.
Enjoy for up to 5 days in an airtight container in the fridge. Remember that two muffins equal one serving! Enjoy! 🙂
Nutritional Analysis: One serving equals 2 muffins: 150 calories, 1g fat, 12g carbohydrate, 290mg sodium, 3g sugar, 3g fiber, and 20g protein.
I hope that you get a chance to give this recipe a try soon. Remember that I'm only a call or email away to assist you in all things health & fitness. And if you are not yet one of my prized clients then call 650-654-4604 or email me now at info@brienshamp.com to set up your first strategy session. I'd love to help you achieve your best self!
FeastPeace, our NEW Organic meal delivery service has been outstanding. Meals are now available to go for those of you who would like to grab a quick bite to eat, lunch or dinner after sessions at the Harbor location.
If you don't want to make the time to cook or if you are confused on what makes a healthy meal give FeastPeace a try for just a week. You can now order your meals 24 hours in advance.
For more information and to order >>> FeastPeace Organic Meal Delivery
Check out more fabulous recipes on https://brienshamp.com/recipes
Your friend & coach,
Brien
Try out the Fit Body Boot Camp Afterburn Workout for 21 days. You'll see why we're rated the best in the Bay Area! 21 Day Rapid Fat Loss Program Boot Camp Trial
Fit Body Boot Camp is the only 30 minute group personal training program that's fun, affordable, gives you fat loss results and challenges your body every time. Best of all, we guarantee you'll be happy with the results or you get your money back.
The boot camp sessions are approximately 45-50 minutes long. Each session includes a 10-15 minute warm up phase with mobility and core movements to prepare you for the 30 minute metabolic workout, and then it ends with a 5 minute cool down phase.
Telephone: 650-654-4604
About Brien
Join Brien on Facebook
Write a Google+ Review
Write a Yelp Review: Belmont Boot Camp, Burlingame Boot Camp, San Carlos Boot Camp, Shamp's Studio Boot Camp
Disclaimer