This is a quick and healthy asparagus recipe to use throughout the week. Part of an on-going fat burning meal plan is to eat small, protein+fiber based meals every 2-3 hours, and this lemon blanched asparagus is a fantastic recipe to use for the greens and fiber in your meals. I like to make a triple batch that will last in the fridge in a large ziplock bag for about 3 days of meals. Make sure not to blanch too long, so that the asparagus maintains a crisp-tender consistency, so that it will remain fresh tasting for a few days, and never mushy. Enjoy!
Courtesy of RealHealthyRecipes.com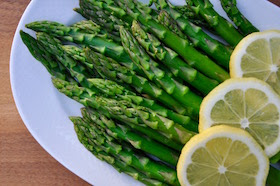 Servings: 4​
INGREDIENTS:
1 Lemon
1 large bunch Asparagus, ends trimmed
sea salt and black pepper
DIRECTIONS:
Bring 4 cups of water to boil in a large skillet. Juice the lemon and add to the water.
Add the asparagus to the boiling water for 4 minutes.
Remove the asparagus with tongs, or by pouring into a colander.
Generously season with salt and pepper. Enjoy!
Nutritional Analysis: One serving equals: 20 calories, 0g fat, 4g carbohydrate, 2mg sodium, 1g sugar, 2g fiber, and 2g protein.
Check out more fabulous recipes on https://brienshamp.com/recipes
Your friend & coach,
Brien
Try out the Fit Body Boot Camp Afterburn Workout for 21 days. You'll see why we're rated the best in the Bay Area! 21 Day Rapid Fat Loss Program Boot Camp Trial
Fit Body Boot Camp is the only 30 minute group personal training program that's fun, affordable, gives you fat loss results and challenges your body every time. Best of all, we guarantee you'll be happy with the results or you get your money back.
The boot camp sessions are approximately 45-50 minutes long. Each session includes a 10-15 minute warm up phase with mobility and core movements to prepare you for the 30 minute metabolic workout, and then it ends with a 5 minute cool down phase.
Telephone: 650-654-4604
About Brien
Join Brien on Facebook
Write a Google+ Review
Write a Yelp Review: Belmont Boot Camp, Burlingame Boot Camp, San Carlos Boot Camp, Shamp's Studio Boot Camp
Disclaimer