This salad is truly super – boasting all the nutrient powers of spinach, avocado and 3 types of seeds. It's amazing how wonderfully flavorful these real food ingredients are.
To make this a complete meal, add a serving of high quality protein such as pastured chicken or eggs, wild fish, grass-fed beef, bison, lamb, etc. Enjoy!
Courtesy of RealHealthyRecipes.com
Servings: 2
INGREDIENTS: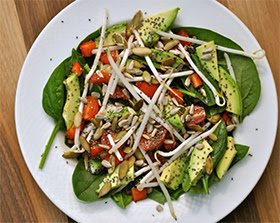 1 cup baby spinach
5 Cherry Tomatoes
½ avocado
¼ cup cucumber, diced
½ red bell pepper, diced
½ cup bean sprouts
1 tablespoon pumpkin seeds
1 tablespoon sunflower seeds
1 tablespoon Chia Seeds
DIRECTIONS:
Divide the ingredients between 4 salad bowls.
Serve with your choice of dressing, or combine a Tablespoon of olive oil with a dash of balsamic vinegar and a crack of sea salt. Enjoy!
Nutritional Analysis: 256 calories, 19g fat, 11g carbohydrate, 3g sugar, 239mg sodium, 7g fiber, and 7g protein.
More of my recommended recipes can be found here>>> Recipes
We are adding more recipes daily.
I hope that you get a chance to give this recipe a try soon. Remember that I'm only a call or email away to assist you in all things health & fitness. And if you are not yet one of my prized clients apply as soon as you can to schedule an interview for our new 6 week challenge starting soon!
APPLY HERE>>> NEW 6-Week Total Body Transformation Challenge
I'd love to help you achieve your best self!
Please share my educational content with your friends and family and help us influence even more Silicon Valley Residents to reach their full potential >> Subscribe
Your friend & coach,
Brien
Telephone: 650-654-4604
Share this delicious healthy recipe by forwarding it to your friends and family! Click Here to share it on Facebook