Bone Broth Braised Brussels Sprouts. Say that 10 times fast!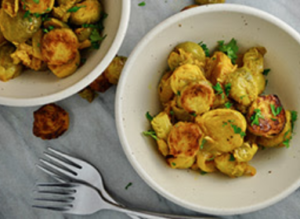 This is a tender take on Brussels Sprouts, infusing flavorful nutrients into each plump bite by simmering in bone broth. Ground turmeric adds pretty color and a host of nutritional benefits as well.
Make lots, these keep well in the fridge for the better part of a week.
Courtesy of RealHealthyRecipes.com
Servings: 8
Here's what you need:
1 pound Brussels Sprouts trimmed and halved (about 5 cups)
1 tablespoon olive oil
1 yellow onion, sliced
1 tablespoon garlic, minced
1 tablespoon ground turmeric
sprinkle of sea salt
sprinkle of black pepper
pinch of red pepper flakes
1 teaspoon garlic powder
1 cup bone broth
¼ cup fresh parsley
Instructions
Place the olive oil in a large skillet over medium-high heat until warmed. Add the garlic and onions. Cook for 5 minutes, until the onions begin to soften.
Add the turmeric, salt, pepper, red pepper flakes and garlic powder and allow the spices to bloom for 3 minutes.
Add the Brussels Sprouts and cook for 5 minutes, until the sprouts are caramelized. Add the bone broth, reduce the heat to low and cover. Cook for 15 minutes, stirring every 5 minutes, until very tender.
Season with more sea salt and black pepper and sprinkle with fresh parsley. Enjoy!
Nutritional Analysis
One cookie equals: 57 calories, 2g fat, 7g carbohydrate, 1g sugar, 28mg sodium, 3g fiber, and 4g protein.
I hope that you get a chance to give this recipe a try soon! Remember that I'm only a call or email away to assist you in all things health & fitness. And if you are not yet one of my prized clients then call or email me now to set up a strategy session – I'd love to help you achieve your best self ever!
For more recipes like this check out our recipe area here: Recipes
We are adding more recipes daily.
Please share my educational content with your friends and family and help us influence even more Silicon Valley Residents to reach their full potential >> Subscribe
Your friend & coach,
Brien
About Brien
Join Brien on Facebook
Write a Google+ Review
Write a Yelp Review: Belmont Boot Camp, Burlingame Boot Camp, San Carlos Boot Camp, Shamp's Studio Boot Camp
Disclaimer