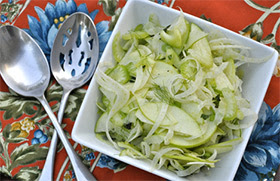 Here's a light and refreshing salad that's filled with healthy fiber. Getting enough fiber is an important part of being healthy and fit.
Fresh tarragon, fennel and lemon juice lend vibrant flavors, eliminating the need for fattening, store bought salad dressing.
Enjoy this Fennel, Celery and Green Apple Slaw Serve alongside a portion of lean protein for the perfect, fitness approved meal.
Courtesy of RealHealthyRecipes.com​
What You Need
Serves 2
2 Tablespoons olive oil
1 Tablespoon Apple Cider Vinegar
1 Tablespoon fresh tarragon, minced
1 teaspoon lemon juice
zest of 1 lemon
2 celery sticks plus the leaves
1 fennel bulb, plus the fronds
1 green apple
dash of salt and pepper
Instructions
1. In a small bowl combine the oil, vinegar, tarragon, lemon juice and zest. Set aside.
2. Using a mandoline slicer on the thinnest setting, thinly slice the celery, fennel bulb and green apple. Place in a medium bowl. Chop the celery leaves and fennel fronds and add to the bowl.
3. Toss the salad with the dressing and season with salt and pepper. Enjoy!
Nutrition
One serving equals 219 calories, 14g fat, 192mg sodium, 23g carbohydrate, 7g fiber, and 3g protein
I hope that you get a chance to give this recipe a try soon. Remember that I'm only a call or email away to assist you in all things health & fitness. And if you are not yet one of my prized clients then call or email me now to set up an interview to get started on one of our programs– I'd love to help you achieve your best self!
For more recipes like this check out our recipe area here: Recipes
We are adding more recipes daily.

Please share my educational content with your friends and family and help us influence even more Silicon Valley Residents to reach their full potential >> Subscribe
Your friend & coach,Brien
Telephone: 650-654-4604
About Brien